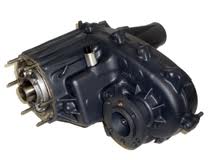 The New Process or New Venture transfer cases can be hard to locate due to shortages in the secondary market.
San Francisco, California (PRWEB) March 07, 2013
Jeep is one of the leading 4x4 brands the U.S. The drive train system inside of these vehicles requires the use of the transfer case to control the front and rear differential. The TransferCasesforSale.com company is now discounting its Jeep transfer case inventory online. These discounts now apply to the complete NP and NV inventory. These brands represent the most popular replacement editions for Jeep vehicles. More details can be located online at http://www.transfercasesforsale.com/jeep-transfer-case.
Chrysler produces the Jeep brand that has helped promote this SUV type worldwide. Outsourcing of internal components by Chrysler has helped to provide stability in the operation of each vehicle. The different years of production represent parts produced by several companies. The New Process or New Venture transfer cases can be hard to locate due to shortages in the secondary market.
The discounted case assemblies that are now available for purchase online include units in rebuilt and used condition. This is now providing more variety for buyers with a range of budgets. Testing programs are now available through this company help to provide more value with each replacement unit. Each used unit that is now sold goes through a process of elimination before customer shipment is made.
The rebuilt units receive additional testing to ensure internal gearing and other essentials are working normally. This test known as a spin test helps prove the gear ratios and overall reliability. This testing was recently added and is typically not available through most retailers online.
A free shipping price extension was announced recently by the TransferCasesforSale.com company. The original launch of this program was expected to remain for a one month term for online orders. The popularity of this shipment incentive has helped this company extend the terms for the remainder of the year. The news announcement for this extension can be read online at http://www.news9.com/story/21450286/transfer-cases-for-sale-co-extends-no-charge-shipping-program.
About Transfer Cases for Sale
The Transfer Cases for Sale company stocks a complete inventory of used and rebuilt case assemblies from domestic and foreign automakers. The discount pricing for this company has helped to provide better purchasing options for buyers. All inventory distributed by this company comes complete with protection in the form of a warranty. The Transfer Cases for Sale company sends its customer orders at no additional charge. This incentive is one example of recent programs put in place for customer benefit. Inventory upgrades, low pricing and rapid shipment help this company to be a leader in 4x4 case assembly sales.