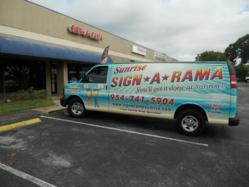 "Sign A Rama SUNRISE is truly committed to making each customer happy every time. So with good pricing, great materials and outstanding customer service, why would you go anywhere else?"
-- Jeff Hochman Owner of Sign A Rama Sunrise
Sunrise, FL (PRWEB) June 19, 2012
Jeff Hochman celebrates his 5th year as owner of the Sign A Rama in Sunrise, Florida. Signarama, where the world goes for signs, has been in the same Sunrise location for 10 years. Located at 5307 N. Nob Hill Road, Signarama Sunrise and Jeff Hochman has been meeting the signage needs for South Florida area since June 21, 2007.
With the combined staff, Sign A Rama Sunrise has over 20 years of sign experience and over 30 years of business experience providing a great knowledge base for the South Florida Business community. "Good pricing, great materials and outstanding customer service" has been the store credo since Mr. Hochman has been at the helm. Using this strong principle, Mr. Hochman has been able to more than double his business in his first 4 years and all this during a tough economic climate. Listening to his customers' needs and recommending the right product at the right price has given Mr. Hochman and edge in today's trying times. Referrals are his largest source of new business which is something he is proud of.
About:
Sign A Rama Sunrise is a full service sign company. Whether you need a vehicle wrap or a vehicle magnet, window lettering or an electric store front sign, Sign A Rama Sunrise has the knowledge and expertise to get your job done right and on time. No job is too large or small. The list of services that can be performed is endless and only limited to your imagination. So whether you need banners, trade show displays, door lettering, real estate signs, special event signage, or any sign at all, why would you want to go anywhere else? See the experts at Sign A Rama Sunrise. With a strong commitment to satisfying the customer, there is nobody better to bring your next sign job to.
If you want the very best in sign recommendation, creation and design, call Sign A Rama Sunrise at 954-741-5904 or visit online http://www.signaramasunrise.com.