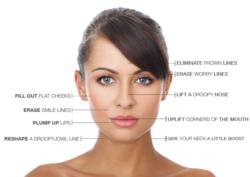 Toronto, Ontario (PRWEB) June 28, 2012
"As we age, the face begins to lose collagen and elastin which contributes to sagging facial volume and elasticity also lead to the formation of wrinkles, creases and folds".- says Jeff Nourse.
In youth the widest part of the face is the cheekbones, narrowing to the chin, called the "triangle of youth". With aging volume is lost under the eyes. In the cheekbones and temples causing sagging and widening of the jawlines and jowls. The "triangle of youth" becomes the"pyramid of age."
"New procedure called the Liquid lift shows promise for erasing the signs of time without surgery and refreshes your natural look, so what are you waiting for?"- comments Jeff Nourse.
How does it work you may ask? The right filler, or combination of fillers is injected at varying depths within or beneath the skin to instantly fill space and create new shape. You may have multiple injection sites (and some swelling or bruising that last for days), but no incisions. And while the liquid lift is all about restoring volume with the help of injectable fillers, Botox plays a role in facial shaping by relaxing the muscles that contribute to expression-related creases.
Did you know that repeated and consistent injections often result in the BOTOX lasting longer and a gradual decrease of the wrinkles being targeted.
Botox Cosmetics treatments works not only for females but also for men. It has gained the nickname "Boytox" Men often require more units of Botox® than woman because men have greater muscle mass when compared to women.
Clientèle of the Pure Laser Med Spa are treated to the best with the non-invasive, no downtime treatment with immediate results. Injectables and Dermal Fillers are used to serve one main purpose: reducing wrinkles and filling lines. Over the last few years, our Expert Injectors have perfected the use of injectables, and now a combination of different injectables can be used during a single treatment to add volume and lift drooping features and sagging skin, known as the Injectable Facelift, or "Liquid Lift". "This is a quick fix for those who want instant results in less than one hour."- adds the owner of the business, Jeff Nourse.
For more information of Pure Laser Med Spa or to find out more about other spa locations in the Pure family, visit http://purelaser.com or contact Oxana Sergeeva by phone at 416.487.7848 or by e-mail at pr(at)purelaser(dot)com.