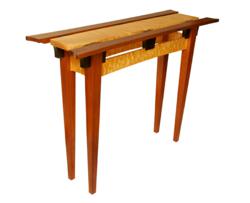 In our busy, buy-off-the-shelf, throwaway society, many have lost a connection to artisans and personalized home furniture design. My goal is to resurrect, rekindle, or fuel the home furniture fire that once was. - Burns Jennings
Vancouver, BC (PRWEB) November 07, 2012
Custom furniture artist Burns Jennings will be the Artist in Residence at the Four Seasons Hotel Vancouver on November 17 – 23, 2012. Jennings' practical and aesthetically appealing furniture and sculptural pieces will be on exhibit for visitors and clients who appreciate fine furniture and millwork and consider the environment when making purchases for their home and office.
Burns Jennings Custom Art Furniture Considers Environmental Footprint
Waste furniture accounts for about five percent of the trash stream, which has quadrupled since 1960. Today, many furniture manufactures are producing furniture with short life spans and are using timber products sourced from regions contributing to global deforestation. Some are using exotic woods that are extracted directly from tropical rainforests. Others still, use harmful chemicals like Volatile Organic Compounds in adhesives, paints and sealants that escape into the air and can irritate lungs, eyes and the immune system. Products are often shipped many hundreds or thousands of kilometers, again adding to the global footprint of these furniture products.
"In our busy, buy-off-the-shelf, throwaway society, many have lost a connection to artisans and personalized home furniture design," says Burns Jennings, founder of Burns Jennings Custom Art Furniture. "My goal is to resurrect, rekindle, or fuel the home furniture fire that once was."
Beautiful, Functional, Environmentally Sustainable Furniture
Jennings carefully considers form and function and uses distinctive materials to enhance all furniture styles. His purposeful selection of materials, some locally harvested and milled, others recycled, found or reclaimed yield beautiful, functional and environmentally superior pieces of artisan furniture. By using both traditional and modern joinery techniques, in addition to durable finishes, Jennings aims to make pieces that can be enjoyed for generations.
"I always enjoy working with Burns. He is one of a rare breed of highly talented craftsmen who are increasingly difficult to find," says Daniel Parke, principal of Salal Architecture. "He is technically very good with wood, understands design and aesthetics and is very current with issues around sustainability."
Meet the Artist
Jennings will be in the lobby of the Four Seasons (791 West Georgia Street) on November 17 and 18 to discuss first-hand his process of bringing carpentry design visions to life, as well as work on a few small projects to show visitors and prospective clients the process behind building beautiful art quality furniture.
"As a keen observer of the natural environment and built forms around me, I am often drawn to the way one inspires the other," says Jennings. "Throughout history humans have designed, painted, photographed, sculpted, and constructed forms emulating our natural surroundings. Natural forms and how I can incorporate them into my furniture designs are often the starting point for many pieces."
About Burns Jennings Custom Art Furniture
Burns Jennings Custom Art Furniture was founded in 1999 and is located on tranquil Bowen Island, one hour from Vancouver and Whistler, British Columbia. Jennings, a graduate from the University of Victoria with a Bachelor of Fine Arts in Visual Arts and Environmental Studies, uses his background to design and build art quality, environmentally responsible furniture, millwork and build-ins for home and office. Jennings works directly with clients to design unique furniture pieces to suit their unique aesthetic. The quality of his craftsmanship, attention to detail, pride in workmanship, and passion for solid design is evident upon delivery. Visit http://www.jenningscustomfurniture.com
For More Information:
Burns Jennings
Burns Jennings Custom Art Furniture
burns(at)jenningscustomfurniture(dot)com
+1(604) 319-1701