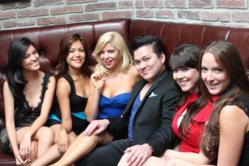 I am delighted to accept Rutgers University's invitation. I want to show the next generation of Asian Americans how to be successful. Whether it's in the bedroom or the boardroom, we don't have to let the Bamboo Ceiling hold us down.
New Brunswick, New Jersey (PRWEB) April 09, 2013
At one of the oldest colleges in the nation, confidence coach JT Tran plans to explain to some young students why Asian guys just can't catch a break. And what they can do about it.
They may face similar obstacles because of their race like Jeremy Lin of Harvard University did, but JT Tran wants future generations of Asian Americans to be successful in both the boardroom and the bedroom.
A published authority in the field of minority dating, Tran, sometimes nicknamed the "The Asian Playboy", plans to discuss issues that have hampered the progression of Asian American men in today's society, particularly in romance and social interactions. His speech will be given as part of an event put on by the school's Asian Student Center on April 15, 2013.
"The message we are really trying to get out is how to break through the 'bamboo ceiling' and really confront the often ignored issues facing Asian American men today," Tran said.
Since beginning his dating advice company the ABCs of Attraction, in 2005, Tran has been an outspoken advocate on Asian American identity and worked to spearhead the burgeoning Asian Men's Movement.
After years as an underground dating coach for Asian Americans, where he focused heavily on breaking though the interracial dating barrier that many Asian men face, he expanded his efforts to address Asian identity and is considered one of the top authorities on the subject.
Tran has spoken at national conferences as well as at Ivy League colleges like Harvard and Yale and Asian American symposiums like "Beyond the Bad and the Ugly" around the country.
During his speech at Rutgers, Tran will discuss in depth his experience and lessons working with Asian men throughout the country and around the world and how he plans to "modernize" Asian American dating etiquette with his upcoming book, "I Did It My Way: The Modern Asian Man's Guide To Complete Social Success."
For information or to arrange an interview with Tran, contact: 1-888-689-4263 or download his speaker kit at http://www.jttran.com/media/