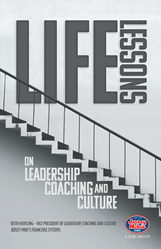 "Keith's insights and stories from his vast career of coaching and teaching others are invaluable to anyone who is serious about shaping their company's corporate culture." – Tom Monaghan, Founder, Domino's Pizza
POINT PLEASANT BEACH, N.J. (PRWEB) July 08, 2019
Great companies know that attracting and retaining quality employees requires having a well-established business culture in place. With over 40 years of leadership and coaching experience, author Keith Hertling, the Senior Vice President of Leadership, Coaching and Culture for Jersey Mike's Franchise Systems, knows how to create and maintain a great work culture. In his new book "Life Lessons on Leadership, Coaching and Culture," Hertling shares his inspiring stories which also double as a resourceful guide for both business owners, managers, and employees.
Detailing how Jersey Mike's Franchise Systems has built a stellar worldwide brand, Hertling provides important insights on creating a leadership and culture plan that encourages teams to rethink how they approach work, conduct interviews, hire the right staff and adapt tactics to different learning styles.
"Keith's insights and stories from his vast career of coaching and teaching others are invaluable to anyone who is serious about shaping their company's corporate culture. Creating a culture built on integrity and exciting goals that team members can engage in is certainly a recipe for success no matter what kind of business you are leading." – Tom Monaghan, Founder, Domino's Pizza
"Keith Hertling teaches from the heart. He is part coach. Part spiritual advisor. Part mentor. And most incredible human being. We can all learn from his life and leadership lessons." – Tommy Spaulding, New York Times bestselling author of 'The Heart-Led Leader'
Thought-provoking and motivating, "Life Lessons on Leadership, Coaching and Culture" is a must-read for businesses large and small, franchise owners, spiritual and faith-based organizations, nonprofits and anyone in a leadership or crewmember position seeking inspiration to improve their work culture and personal development. To learn more, please visit http://www.keithhertling.com.
"Life Lessons on Leadership, Coaching and Culture"
By Keith Hertling
ISBN: 9781532048272 (softcover); 9781532048296 (hardcover); 9781532048289 (eBook)
Available at the iUniverse Online Bookstore, Amazon and Barnes & Noble
About the author
Keith Hertling has over 40 years of leadership and coaching experience. At 15, he embraced entrepreneurship by co-founding Popeye's Gym, laying the foundation for his future in leadership positions. His first coaching job was with the Special Olympics, where he became the Area Director before graduating Benedictine College in Atchison, Kansas with a degree in Special Education and a minor in Theology. A three time All-American in football and academics, Hertling was inducted into their Hall of Fame in 1994. He received his Master's degree in Counseling Education from Kansas University. As a leader in the fitness industry for over 20 years, Hertling coached both high school and college level football, won many awards for innovation and design, and trademarked RYTHMETRICS, a circuit weight training program designed to music. He has also worked as popular certified personal trainer and life coach, and was a program coach for the American Diabetes Association where he led teams in marathon races around the world. Today, Hertling's unique skill set is coaching franchisees and their managers. He is the SVP of Leadership, Coaching and Culture for Jersey Mike's Subs, where he mentors the elite field team to cultivate a culture known as 'A Sub Above.'
For Review Copies & Interview Requests:
LAVIDGE – Phoenix
Leslie Standridge
480-998-2600 x 586
lstandridge(at)lavidge(dot)com