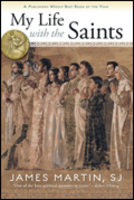 Seeing that someone so human could be holy gives me great hope
(Vocus) March 12, 2009
In My Life with the Saints (Loyola Press), James Martin, a Jesuit priest and associate editor of America magazine, shows that the saints are much more interesting and accessible--and sometimes, funny--than many people think they are. Rather than modeling unattainable levels of sanctity, the saints reveal that the call to holiness consists in being oneself.
Though he grew up as a lukewarm Catholic with little knowledge of church culture, Martin can trace the presence of saints throughout his life, from a plastic mail-order statue of St. Jude he kept in his sock drawer as a teen, to a TV program on Thomas Merton that led him to the priesthood. His real education in the saints, though, came after his fast-track corporate career at General Electric was derailed by a newfound faith that led him to the priesthood.
Studying the saints' lives and finding that they had human foibles was a great consolation, Martin says. Especially someone like Thomas Merton, in whom one sees both sin and sanctity. "Seeing that someone so human could be holy gives me great hope," Martin says. "None of us are meant to be Therese of Lisieux or Thomas More. We're meant to be ourselves, and to allow God to work through our humanity."
Martin enjoys introducing people to his favorite saints, and meeting new ones himself. "I think one reason we are initially attracted to a saint is that he or she is already praying for us," Martin says. He credits Saint Jude, who, "all those years stuck inside my sock drawer, prayed for a boy who didn't even know that he was being prayed for."
My Life with the Saints
by James Martin, S.J.
Loyola Press
ISBN: 0-8294-2001-0
Hardcover $22.95, Paperback $15.95
###