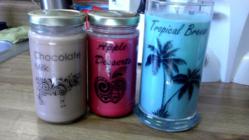 A Jewel in every crown
O'Fallon, Missouri (PRWEB) March 02, 2013
Very few people might be aware of the jewelry candles that seem to be the latest craze in the candle world. The best part about these candles is that, one can find different jewelry items within the candle with prices ranging from $10 to $ 5,000. The jewelry candles from Crown Candles have caught the attention of millions of people because of their candle quality and the jewelry that's kept inside it. The candles are suitable for all occasions whether it is a birthday, wedding, Christmas, Valentine's Day or any other special occasion.
The unique part about the candles from Crown Candles is that they are made of one hundred percent pure soy wax, which burns for a longer time and produce excellent scents. The concept of jewelry candle got its inspiration from the famous movie 'Willie Wonka and the Chocolate Factory'. The jewelry contained inside the candle can be anything, like necklace, ring, bracelet, ear ring or pendant. Crown Candles make use of premium fragrances so as to provide the candles with different types of scintillating smells. Every candle from Crown Candle contains a unique piece of hidden treasure that will definitely prove as a surprise gift for different occasions. The pieces of jewelry are kept inside the candles with the help of foil pouches. After the candle burns down, the pouch can be removed either by hand or by using tweezers.
One of the best parts about the jewelry candles from Crown Candles is that, one can choose the jewelry type and size by paying an additional amount of $5. There are different categories provided in the site from which one can choose accordingly. These categories are primarily based on the smell that the candle produces after burning. One can choose candles with different aromas, like Margarita, Moonlight, Chocolate Cake and much more.
The jewelry candles are a unique and new concept that can certainly make any occasion wonderful. Choosing gifts for a wedding becomes a difficult task for many. The diamond candles from Crown Candles definitely fit the occasion. Similarly, in case of engagement, the ring candles can prove as a nice surprise. With so many different options available, it would be hard for a person to fall short of choices. Apart from occasions, people can use these candles in their home and fill the environment with different types of aromas and scents. Jewelry scented candles from Crown Candles certainly help to create soothing and serene environments within the house. They are impressive and act as the best gift that one can give to their loved ones.