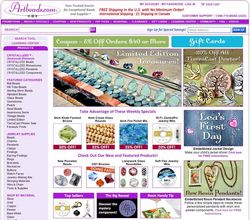 We've also included our customers' gold bead product ratings with the search results for jewelry designers to see our top-rated products at-a-glance.
Gig Harbor, WA (PRWEB) August 20, 2009
Artbeads.com, the Gig Harbor, Wash., online retailer of beads and jewelry supplies, launched their new site design on Wednesday, August 19; complete with enhanced features and improved navigation.
While Artbeads.com has long been a source for inspiration among jewelry designers, when it came to their website design, Artbeads.com turned to these designers for inspiration. "We wanted to create an experience at Artbeads.com that mirrored the jewelry designer's creative process." says Artbeads.com President and Chief Creativity Officer, Cynthia Kimura. "As this usually begins with a search for inspiration, we decided to give much more visibility to the jewelry design ideas in our Learning Center."
The new Artbeads.com home page now features jewelry design ideas with larger graphics at the top of the page. The primary site navigation has also changed to include an entirely new Learning Center tab behind which lies an expanded set of links to over 500 jewelry and craft design ideas, ideas for upcoming events and a variety of resources such as handy tips and video tutorials. The Learning Center itself has also received a complete face lift and reorganization with a greater emphasis on Artbeads' growing library of free jewelry making videos.
The next step in a jewelry designer's creative process is to select the beads and components they need for their design. "While our site navigation had grouped products by beads and components, when we studied how jewelry designers shop we found three distinct types." says Steve Groenier, Artbeads.com VP of Search Marketing and Customer Service. "Jewelry designers tend to look for products based on popular categories, by component type or by material." With this mind, the Artbeads.com site navigation was updated to reflect these three types of jewelry supply shoppers. A designer who is looking only for silver items can now click one link to browse Artbeads' collection of cast sterling silver beads and components as well as Bali beads and Hill Tribe silver beads.
In addition to reaching out to jewelry designers, Artbeads.com sought ideas from everyone at the company. "I started working on the new site design about 8 months ago by asking the different departments to give me a list of things they would like to see included in a new site design," said Carey Kimura, VP of Marketing Communications, who along with his executive duties also acts as the company's web designer and art director. Most of the ideas involved adding features or reorganizing elements of the website.
"It was my job to marry form and function with a design that was aesthetically pleasing while at the same time enhancing the user experience and increasing sales conversions," Kimura said. One of the most noticeable differences is the width of the site, which is now wider to accommodate the majority of computer users who now view monitors set at higher resolutions than in the past. This opened up real estate on the web pages for more product photos and a larger percentage of page elements "above the fold." It also made more room for more creative treatments of sections like the Learning Center, an educational and inspirational resource for the Artbeads.com customers.
With this most recent redesign and others in the past, Kimura designed the site keeping in mind that most of the Artbeads.com customers are women. "From the 'Artbeads.com Purple' that is now associated with our brand, to using whimsical fonts and keeping the 'soft' look of the site, I want Artbeads.com to always feel like an inviting place to shop, learn or just hang out and have some fun."
The feedback from jewelry designers, customers and staffers was also used to improve the site's technology, driving enhancements in search and an introduction of a user registration. The new search tool was enhanced to show inspirational jewelry design ideas in a much more prominent and visual way with every search result. The ability to narrow those search results was also updated to mirror the site navigation with refinements by category, component type and material. It also includes further refinements for color, measurement and country of origin. "We're very excited about how the new site search shows off our products with larger images along with gorgeous jewelry designs from our Learning Center." says Drea Solan, VP of Digital Content. "We've also included our customers' gold bead product ratings with the search results for jewelry designers to see our top-rated products at-a-glance." Customer will also now have the ability to register giving them the ability to view their order history, create a list of their favorite products and share these favorites with friends and family. These features will also make it much easier for designers to reorder the jewelry supplies they need to reproduce previous designs.
Artbeads.com is a leading provider of beads and jewelry supplies for jewelry designers and the beading community. Artbeads.com caters to the quality-conscious designer with products like Swarovski crystal beads and the finest sterling silver beads, but also works vigorously to keep prices low. Thanks to Artbeads' buying power, those looking for wholesale beads are attracted by wholesale pricing discounts, no minimum order requirements and fast, free shipping anywhere in the US. With a vast Learning Center, Artbeads.com is also a popular destination for beginners looking for jewelry designs and tips on how to make jewelry.
###