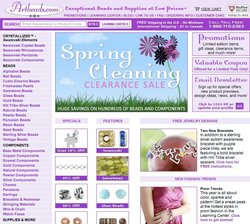 We feel this growth is being fueled by two primary factors
Gig Harbor, WA (PRWEB) March 27, 2009
The demand for beads and jewelry supplies is actually on the rise at Artbeads.com, which has posted its eighth consecutive year of top-line growth in 2008. "We feel this growth is being fueled by two primary factors," says Artbeads.com founder and CEO Devin Kimura. "The first is that more people are starting home-based jewelry making businesses and the second is that people looking to save money are discovering how easy and affordable it is to make their own jewelry."
Artbeads.com is in a unique position to meet the needs of both the home-based jewelry designer and those who want to save money thanks to their low wholesale prices, free shipping and no minimum order requirements. "People looking to start a business selling jewelry from home can get started at virtually no cost," explains Devin. "As jewelry designers take orders, they come to Artbeads.com and buy only what they need to fill the order and we ship it to them for free. This saves them money over buying pre-packaged beads from the big craft stores. "Work-at-home jewelry designers are also receiving help from websites like Etsy, Ruby Lane and ShopHandmade.com. These sites are driving demand for handmade jewelry as well as providing a convenient, low-cost place to set up shop."
Artbeads.com is also supporting independent jewelry designers and others just learning to make jewelry with investments in their Learning Center, which now includes over 500 jewelry design ideas along with wide variety of jewelry making tips and handy-tip videos. "We're excited by all of the positive feedback we are getting about our Learning Center and the free jewelry design ideas. Many people have even asked if they could use these designs to create jewelry to sell in their shops and we actually encourage that," says Artbeads.com's co-owner Cynthia Kimura.
Jewelry designers are also finding a strong support community at Artbeads.com with the introduction of the Artbeads.com Blog for Beaders an Artbeads.com pages on social networking sites including Facebook, MySpace and Twitter. There is also a new platform for sharing feedback, tips and design ideas about the many jewelry supplies found on Artbeads.com. This five-star Ratings & Reviews™ platform from Bazaarvoice™ provides a means to rate products based on various attributes, allows customers to upload images and videos, forward product links and reviews to various social networking sites, and search and sort products based on scores given by their peers in the beading community.
While 2009 is expected to be a challenging year for online jewelry-supply retailers, Artbeads.com remains optimistic as the actions undertaken at the end of last year gain even more traction. The product line continues to grow, sending total unique items carried well above the 20,000 mark, and many ideas to improve the customer experience even further are on track to roll out in the second and third quarters.
Artbeads.com is a leading provider of beads and jewelry supplies for jewelry designers and the beading community. Artbeads.com caters to the quality-conscious designer with products like Swarovski crystal beads and the finest sterling silver beads, but also works vigorously to keep prices low. Thanks to Artbeads' buying power, those looking for wholesale beads are attracted by wholesale pricing discounts, no minimum order requirements and fast, free shipping anywhere in the US. With a vast learning center, Artbeads.com is also a popular destination for beginners looking for jewelry designs and tips on how to make jewelry.
# # #