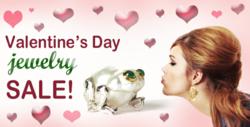 People dress differently depending on the occasion, their mood, their attitude, and the image they want to portray. Original jewelry gives people a fun way to change the entire look of an outfit.
Houston, TX (PRWEB) January 24, 2013
Selecting the right piece of jewelry is an art, especially if that selection is for a Valentines gift. Not all jewelry lovers want classic jewelry. This is why Amatyzt.com offers both classic jewelry and unique global jewelry from extraordinary designers. This allows customers to get Valentines gifts that are just right for the recipient, and currently on sale. If it complements a dress, there is nothing more one should want. Amatyzt.com is an online jewelry store that strives to achieve the same purpose. In order to provide the best jewelry experience to its customers, Amatyzt.com welcomes the creative work of various designers from different backgrounds.
When defining her jewelry collection, Alexa Ronngren, the owner of Amatyzt.com stated, "People dress differently depending on the occasion, their mood, their attitude, and the image they want to portray. Original jewelry gives people a fun way to change the entire look of an outfit."
The wide selection of unique global jewelry on Amatyzt.com are made available by designers abroad and shipped directly from their studio to the customer's doorsteps. Shipping is discounted and often even free! This is how the site manages to showcase a beautiful and diverse array of Valentines Gifts that are sure to please every type of jewelry lover.
Amatyzt puts a lot of effort into finding unique global jewelry designers that create exceptional pieces. Some of the designers on the site have even won international awards for their creations. This curated group of exceptional designers lets the website create a unique collection of master pieces. But not everyone wants a one of a kind, exotic piece. So the site also provides handcrafted classic jewelry from European designers. Classic fashion jewelry on the site is also of a higher quality that normally found. Amatyzt.com believes that every piece, whether fine or costume jewelry, look better and last longer if they are produced properly. For this reason, Amatyzt offers a 30 day warranty on all pieces that are not customized or custom made.
Customers can give jewelry as Valentines gifts or give a gift certificate to the site. "Giving a gift certificate to a unique site like Amatyzt.com shows the gift recipient that you took the time to find a very special site," explains Alexa, "This makes the gift much more meaningful that a generic gift card from a well know store."
ABOUT AMATYZT AND ITS DESIGNERS
Amatyzt.com is an online jewelry boutique that specializes in unique designer jewelry by notable designers from all over the world. Founder Alexa Ronngren came up with the idea after meeting an award winning jewelry designer who despite having talent and accolades didn't have the marketing knowledge to promote her brand. Coming from a family with four generations in the gemstone business, Alexa has been able to curate a special collection of beautiful, high quality jewelry, watches and accessories on Amatyzt.com. Some designers are international award winners, others are well respected in their home market, and a few are emerging stars just starting to get discovered. The site's handpicked international array of designers includes Maria Moreno from Argentina, Mikky Eger from Milan, Atelier Orafo from Florence, Patrick Jerer from Beirut, Posse & Rake and Perihan Tufan from Australia, Sissai from Peru, Gwel and Unity Watches from Barcelona, Leonor Heleno from Paris, Exceptio Cufflinks from London, and PavlinaJewel from Athens. Designers based in the US include Pia Cevallos, ShinYi, Georgean Beauty, and Alex Klien. Despite coming from different corners of the world, they all share a passion for creating interesting, gorgeous, and uncommon jewelry.