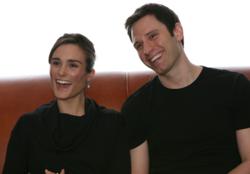 Speak your feelings, don't text them. Emotions are difficult to convey by text, and nuances often get lost
New York, NY (PRWEB) September 25, 2012
JRetroMatch's Jewish Dating coach Sandy Weiner has been observing the effect that texting has on a relationship. She's seen many couples at various stages of dating substitute texting for real connection, which can result in misunderstandings and even breakups.
Sandy is an internationally known dating coach, blogger, and workshop leader at Last First Date and has been featured on Daily Buzz TV in her segment, Love Bytes. Following are her tips on when to talk and not text:
1. Conveying emotions. Speak your feelings, don't text them. Emotions are difficult to convey by text, and nuances often get lost. "I lv u" is much better whispered in her ear than popping up on her iPhone.
2. Confronting/having a difficult conversation. People tend to shy away from confrontation. It's safer to write it than say it. Set aside some face-to-face time instead. Confrontation is not as bad as you think. It's a chance to bring you closer and be more honest with each other, which is one of the cornerstones of a great relationship.
3. Breaking up. Remember the Sex and the City episode when Carrie Bradshaw gets dumped by a guy on a Post-it? A breakup text is pretty much the 21st century version of that Post-it. Breaking up should be done with dignity. Do it in person.
Texting was found to be most useful in the following situations:
1. It's informational. Text to tell him you'll be five minutes late or where you'll be meeting. Informational texts often make more sense than picking up the phone to call.
2. You're thinking of him/her or flirting. It's fun to flirt by text. "The anticipation is killing me!" or "Can't wait to c u" texts can be fun and exciting. Flirty texts can bring a secret smile to your face in the middle of your workday.
Sandy's advice is to be careful not to text too much, and not to get anxious if he/she doesn't reply immediately. Anxiety can kill a relationship. One of her clients received an inordinate amount of flirty texts from a guy following their first date. When she didn't immediately reply, he became enraged. He was history before they even had a chance at a relationship.
About JRetroMatch
JRetroMatch.com serves the non religious Jewish singles community. The service blends tradition and technology to revive matchmaking. JRetroMatch combines personalized service from its 350 matchmakers with the unique technology to deliver a quality Jewish dating experience for each of its 30, 000 members. JRetroMatch was created to benefit Traditional, Conservative and Reform Jewish communities throughout the world.