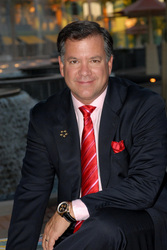 It has been an amazing experience to be a part of GSEA
Phoenix, AZ (Vocus) November 22, 2010
The Global Student Entrepreneur Awards (GSEA) is the premier global competition for undergraduate students, which aims to bring global visibility to student business owners who are innovative, profitable and socially responsible. With such an emphasis on these core values, it is no surprise that they've selected the widely respected philanthropist and entrepreneur Jim Piccolo as one of the judges at this year's national competition.
"It has been an amazing experience to be a part of GSEA," says Jim Piccolo. "These are the brightest of the bright kids and it's inspiring to know that they are our future."
This is not Piccolo's first bit of involvement with the GSEA organization. In fact, he was an honorary judge at the regional level in Arizona in September. In addition, he later hosted a reception at his home in honor of the regional finalists, where all the judges and the finalists were present.
Yes, Jim Piccolo is truly an interactive member of the GSEA community and an advocate for young entrepreneurs achieving their aspirations.
"I encourage each person to dream not just about the things they want and the person they want to become, but about the things each of them can do to positively impact others."
In the end, the GSEA inspires students to adopt entrepreneurial endeavors and because Piccolo shares this sentiment, he feels extremely privileged and humbled to have been chosen as a judge at this year's nationals.
What: Global Student Entrepreneur Awards
When: November 17-19, 2010
Where: Ewing Marion Kauffman Foundation, Kansas City, MO
For more information on Jim Piccolo's charitable endeavors or the Global Student Entrepreneur Awards, we invite you to visit their respective websites: jimpiccolocharity.com, jimpiccolomentoring.com and http://www.gsea.org
Jim Piccolo is a master entrepreneur and philanthropist that has created and operated over a dozen successful companies in both the service and product industries. A true advocate of entrepreneurialism, Jim Piccolo has educated and inspired audiences on the topic worldwide. Regarded as one of his greatest achievements, is the founding of The Frank Edward Piccolo Foundation, which supports many children's charities and promotes volunteerism among families.
###