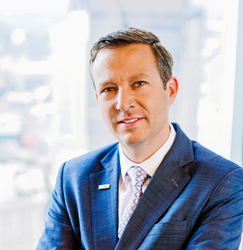 "Time and time again, Jim has sat at the forefront of change impacting our industry. His expertise and recognized leadership will enable us to provide even stronger counsel to our clients and industry moving forward." - Rob Slimp, HNTB chairman and CEO
KANSAS CITY, Mo. (PRWEB) September 16, 2019
Jim Ray joined HNTB Corporation as corporate president and executive vice president. He serves as an accomplished resource to both the firm and its clients. Ray previously served in leadership roles at the United States Department of Transportation, the White House, on Capitol Hill and in the private sector.
"The infrastructure industry is experiencing rapid change with emerging technologies and other innovations shaping our mobility system in ways most couldn't have imagined five or 10 years ago. Clients, elected officials and community leaders are looking to HNTB to help them navigate these changes and to capitalize on the promise these innovations present," said Rob Slimp, HNTB chairman and CEO. "Time and time again, Jim has sat at the forefront of change impacting our industry. His expertise and recognized leadership will enable us to provide even stronger counsel to our clients and industry moving forward."
Ray brings more than two decades of leadership experience and an extensive understanding of the legal, policy and business frameworks critical to innovative project delivery, emerging intelligent transportation solutions, disruptive technologies and trends, data transformation and infrastructure policy.
In 2017, Ray was appointed by U.S. Transportation Secretary Elaine Chao to serve as her senior adviser for infrastructure. In this capacity, he led the secretary's infrastructure agenda across all modes of transportation, oversaw the department's evolving Smart City initiative, and sat on multiple departmental councils, including those overseeing the U.S. DOT's credit programs and regulatory initiatives.
Ray also acted as one of the secretary's primary spokespeople on infrastructure and transportation matters before Congress, state and local governments and industry groups.
Before joining the U.S. DOT, Ray was a partner with a leading, multinational infrastructure consulting firm in Washington, D.C. In this role, he led teams to evaluate and deliver large-scale projects through innovative delivery and founded the firm's infrastructure strategy business. Prior to that role, Ray served as deputy general counsel for the White House's Office of Management and Budget and as chief counsel, deputy administrator and acting administrator for the Federal Highway Administration.
Ray earned a Doctor of Law from Georgetown University Law Center and a bachelor's degree from the University of North Carolina at Chapel Hill. He is a sought-after speaker on transportation issues, previously sharing remarks at such events as Smart Mobility Summit (Israel), PPP2025 (Spain), Mayors' Summit (Portugal), Transportation Research Board Chairman's Luncheon, P3 Federal Conference, and the Infrastructure Outlook Forum.
About HNTB
HNTB Corporation is an employee-owned infrastructure firm serving public and private owners and contractors. With 105 years of service in the United States, HNTB understands the life cycle of infrastructure and addresses clients' most complex technical, financial and operational challenges. Professionals nationwide deliver a full range of infrastructure-related services, including award-winning planning, design, and program and construction management. For more information, visit http://www.hntb.com, or follow HNTB on LinkedIn, Twitter, Facebook or Instagram.