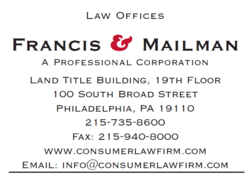 Consumers are losing jobs by the thousands because of the bad background checks that are run on them
Philadelphia, PA (PRWEB) November 13, 2012
Today National Investigative Correspondent Jeff Rossen speaks with Jim Francis to understand why hidden flaws in the background check process can ruin one's chance of getting hired.
When consumers apply for open positions employers most likely will do a criminal background check. Attorney Jim Francis says those background check companies are causing innocent people to lose jobs, mistaken for drug felons, armed robbers, even sex offenders.
"Consumers are losing jobs by the thousands because of the bad background checks that are run on them," attorney Jim Francis told the Today Show correspondent Jeff Rossen.
Francis practices in these cases at Francis & Mailman, P.C., where he is a partner of the firm, along with Mark D. Mailman. He says background check companies rely only on computers to match the data. They have no humans checking the accuracy of the data. It is a billion dollar industry where the background check companies are aware of the faults, but are unwilling to dip into their billion dollars of profit to fix the issues.
Mr. Francis was ranked one of the Top 100 Super Lawyers in Pennsylvania in Philadelphia Magazine and Pennsylvania Super Lawyers magazine. He was also ranked one of the Top 100 Super Lawyers in Philadelphia for the years 2004-2008, and 2011-2012. He has appeared on various news programs to discuss consumer-related issues, and was featured in The Philadelphia Inquirer's "Question & Answer" segment in February of 2009.
Francis & Mailman, P.C. is a law firm located in center city Philadelphia, Pennsylvania that concentrates in consumer protection litigation. Founded in 1998, the firm's goal is to provide zealous advocacy to consumers subjected to unfair business, industry and trade practices. The firm represents consumers in individual actions, as well as through class action lawsuits, in the areas of unlawful credit reporting and debt collection practices, unfair trade practices, breach of warranty, truth-in-lending and other consumer matters. The firm's attorneys have significant litigation experience both in federal and state trial courts.