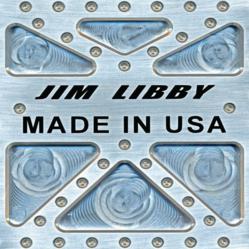 "Jim Libby's definitely a superior song composer and true-to-form country singer" - Folk and Acoustic Music Exchange
Boston, MA (PRWEB) March 05, 2013
Made In USA is the debut album from Jim Libby. Raised on traditional country music on a farm in eastern Massachusetts, Libby developed a passion for music, a strong work ethic, and a sense of pride early on. His mother and older siblings taught him to sing harmony, his older brother and sister sang in rock and roll bands, and Libby's love of music was born. Influenced by his father, a mechanic and a drag racer, Libby began racing at the age of 17, competing with the National Hot Rod Association. By age 24, Jim was becoming well-known for his driving ability, but his desire to focus on his own business and pursue his love for music soon brought an end to his racing career.
A true do-it-yourselfer, Libby explains that the overarching theme of Made In USA is challenging yourself, and commitment to your word. "We're lucky to be here," Libby states. "I want this album to invoke feelings of pride, ambition, and honesty." Perhaps it's both Libby's music and his traditional values that have drawn comparisons to Hank WIlliams Jr. and Merle Haggard. Made In USA started receiving more serious attention when the title track became a finalist for the Massachusetts Country Music Association's "Song Of The Year" award. Ending the album on a high note and slowing from the previous fast-paced tracks, "Run Away With Me" is a great closer to a strong country album that's full of twangy guitar, upbeat fiddle, and mandolin accompaniments. Made In USA will appeal to any country rock fan.
Jim Libby is the primary songwriter on Made In USA. Joining him in the studio is David Coate on electric and acoustic guitar, Rick O'Neal on bass, Jeff Armstrong on percussion, Roger Trahan on pedal steel guitar, Jon Aanestad on fiddle, and Ken Reback on mandolin. All songs on Made in USA were written by Jim Libby. The album was produced by David Coate and Libby. Made In USA was recorded at Turning Point Studio and was mastered at Mayfield Mastering (Willie Nelson, Dave Matthews Band, Sara Evans).
You can learn more about Jim Libby at http://www.jimlibbyband.com
To listen to the album: http://www.jimlibbyband.com/mystore
If you have any questions, comments or would like to set up an interview please contact Melissa Zeigler: melissa(at)powderfingerpromo(dot)com