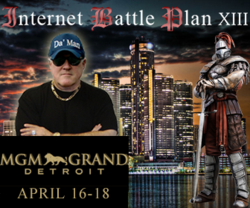 In today's fiercely competitive retail environment, every dealership must be operating at maximum efficiency.
Atlanta, GA (PRWEB) February 21, 2013
Automotive retailing's superstar and Certified Speaking Professional, Jim "Alpha Dawg" Ziegler, brings his highly successful Internet Battle Plan XIII to the MGM Grand Hotel & Casino in Detroit, MI on April 16-18, 2013. Ziegler and fifteen other leading automotive industry professionals will discuss cutting-edge strategies and processes in sales, social media, marketing and technology for the automotive industry. The Internet Battle Plan panel of experts takes their lessons beyond the stage to provide dealers with real-life examples and situations. Each presenter teaches practical, hands-on techniques that help dealers utilize technology-enabled tools and realize their maximum Internet sales and marketing potential.
Ziegler and his panel of automotive-industry experts teach strategies and techniques that both individually and collectively catapult dealerships and businesses to the pinnacle of market leadership in their regions. All have been hand-picked by Ziegler and assembled with the purpose of providing attendees with a comprehensive, in-depth understanding of how to leverage online relationships for sales and profits.
Sponsored by Car Woo!, Dealer e-Process, Dealer Socket, Dealer Synergy, Mouthful Social Media, POTRATZ and Stream Companies, Ziegler's thirteenth Internet Battle Plan seminar brings together some of the most successful entrepreneurs, consultants and seasoned professionals in the automotive industry:
Elise Kephart is a sales and marketing phenomenon in the automobile business and is nationally recognized as "The YouTube Diva". Since 2007, Elise has sold thousands of vehicles to local and out of the area clients. Her personable and persuasive sales and marketing videos are personalized for every customer, creating a strong bond and trust. Elise is currently an Internet Manager at Sunset Honda in San Luis Obispo, California.
Sean V. Bradley is president and CEO of Dealer Synergy, a highly successful automobile dealership consulting and training firm based in Audubon, New Jersey. Sean learned the business from the ground up holding positions at dealerships as Sales Manager, Internet Sales Manager, Special Finance Manager and Business Development Director. Bradley is a professional speaker and trainer, receiving numerous awards and high ratings from Automobile Dealer Associations and Dealer 20 Groups.
Rachel Haro, Partner & Social Media Strategist at Mouthful Social Media, has over 15 years of marketing experience and has spent the last ten of those working with dealerships across the country on strategic, grass roots, and social media advertising. Rachel has been featured in Dealer Marketing Magazine, and is the creator of Facebook Fan Friday, a growing movement that is a grass-roots effort to support local businesses on Facebook and facilitate online B2B and B2C networking.
Cory Mosley, Founder and Principal of Mosley Automotive Training, has built a reputation as a go-to sales strategist, consultant, and trainer by challenging the status quo. His new-school techniques and progressive strategies have help dealers dealer's both large and small build and restructure profitable sales, BDC, and Internet operations. Corey's monthly column "Sales Driver" is read by thousands of dealership personnel nationwide.
Dave Page, Owner & Director of Dealer e-Process, began at a Chicago dealership and his immensely successful strategy prompted a write up from Automotive News which brought dealers from all over the country to learn about the dealership's internet process. Dave created Dealer e-Process in 2007 out of this dealership and it has quickly become one of the top website providers in the industry as witnessed by numerous awards in 2012.
Ed Parkinson is VP of Sales, Automotive Solutions for Contact At Once!, and has been working with automotive dealers for 27 years and has championed many new services that "move the needle" for his customers. Ed helped pioneer the use of call tracking and measurement to increase sales and quantify the return-on-marketing during his 7 years at Who's Calling Inc. and began selling and coaching auto dealers on ContactAtOnce! services in 2006.
Brian Pasch is CEO of PCG Digital Marketing. Brian has built his business insights and strategy on a foundation consisting of over 20 years of Information Technology and Marketing leadership. His career history includes work in the public sector, Senior Telecom Analyst on Wall Street and has an incredible talent for building successful private enterprises. Brian is an active speaker at automotive industry conferences, 20 Groups, and digital marketing workshops.
Paul Potratz is COO of Potratz Advertising. Headquartered in Schenectady, NY, Potratz is a full service automotive advertising agency that specializes in integrating the power of digital marketing strategies for retail automotive dealers and dealer groups across the United States. Paul has been interviewed on digital marketing and automotive trends by The New York Times, The Wall Street Journal, NY Post, CBS and several regional newspapers and radio talk shows.
David Regn is the co-founder of Stream Companies. and helped grow the company from the two partners and an intern to 50 full time employees. Mr. Regn currently oversees all daily operations in Stream's Malvern headquarters, as well as satellite offices in Center City Philadelphia, New Jersey, and New England. Today they proudly service over 80 local, national, international, and Fortune 1000 companies in a variety of markets.
Myril Shaw, COO of CarWoo!, has been with CarWoo! since the name was invented and the company was incorporated. He has done every job in the company except write code (and jokes that there is good reason for that.) He built the team that has grown the CarWoo! dealership network from 0 to over 7,000 today as well as launching the CarWoo! Dealer Plus product for dealers.
Jerry Thibeau is President of the Phone Ninjas, a company focused on helping dealerships improve phone skills. He has earned the nickname "The Phone Ninja" for his ability to turn even the hardest of phone shoppers into real appointments that show. Having personally listened to and provided coaching feedback on more than 10,000 sales calls, Thibeau is one of the industry's best and brightest when it comes to evaluating a phone conversation.
Matt Redden is VP of Sales and Marketing for DealerSocket. Matt drives sales through a unified approach that incorporates marketing, sales and customer support. Over the last 18 years, Matt has built his career around strategic marketing and driving sales in multiple markets through an innovative and focused approach.
Stan Sher is president of Dealer eTraining. As a writer and contributor to the automotive dealer community, Stan has a continual blogging presence and uses his years of BDC experience to help dealerships increase their sales. He has been published in some of the most respected automotive industry websites and magazines including Digital Dealer Magazine, Dealer Marketing Magazine, Automotive Digital Marketing and DrivingSales.
Peter Martin is President of Cactus Sky Communications, one of the premier email marketing agencies in the country. The company's ability to deliver email through SPAM filters and track the recipients' clicks provides its clients with an unprecedented marketing advantage, and has helped double internet closing ratios for dealers. Peter brings new marketing innovations to the industry which leverage the companies email deliverability expertise to generate online reviews for car dealers.
Ray Fenster is President & CEO at Ray Fenster, LLC. He has spent most of his working life in the digital space with specific expertise in several verticals for technology and product development, research, sales and service operations. Ray has been recognized as a thought leader and is a regular contributor to several publications, and has presented at numerous popular workshops, forums, and conventions.
Yago Paramo is CEO of Paramo Group, Inc., has over 20 years of experience in selling and marketing cars, and has been pushing data to Craig's List since 2003. He has created numerous data tools for this task, managed hundreds of templates, and worked with companies like AutoNation, Lithia, Earnhardt, and more. Yago's systems currently publish over 500,000 ads a month and has the ability to measure ad opens, ad clicks, phone calls, emails, and more.
For more information about Jim Ziegler's Internet Battle Plan, Speakers, Sponsors, Ziegler SuperSystems, or to request information on discounted group rates, please call 1-800-726-0510 or visit InternetBattlePlan.com.
About Us:
Ziegler SuperSystems is an automotive training and consulting organization based in the Atlanta, GA area. President Jim Ziegler has been a keynote speaker at National and State Dealer conventions, and has trained over 100,000 Dealers, Managers, and Industry Manufacturer Executives.