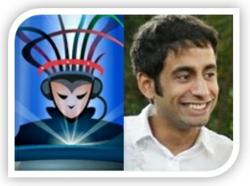 We teach our members how to significantly increase conversions by supplementing their plain text communications.....with personalized messages
Oviedo, FL (PRWEB) June 01, 2011
Following the recent announcement of its advances in video email streaming technology, jiveSYSTEMS has revealed how its clients are using it to build trusting and profitable business-client relationships.
Regular Marketing Emails Are Not Being Read
There is no question that consumers are becoming immune to email marketing messages. In fact, after scanning 570 million emails delivered by its system, email marketing powerhouse MailChimp revealed in December 2010, that the average open rate was less than 20% (from Politics 13.72% through to Photo and Video at 28.93%).
These 'faceless' messages are no longer connecting with people.
jiveSYSTEMS Video Email Strategy
By combining face to face communication with digital technology, video email is breaking down the psychological barriers that consumers have erected to block text-based marketing emails. Importantly though, jiveSYSTEMS has also included up-to-the-minute marketing strategies with cutting-edge technology.
"We teach our members how to significantly increase conversions by supplementing their plain text communications, and autoresponder sequences, with personalized video email messages," explained jiveSYSTEMS' CEO, Will Franco aka Flywheel.
The strategies used include:

Leveraging video email to automate repetitive tasks
Following up a first phone call with a new prospect with personalize or evergreen video email message
Building better autoresponders by weaving video emails into the sequences
Leveraging canned video emails to respond to FAQ
Using video email for compliance to ensure everyone is on the same page via the 'Notify Me When Person Views' feature
Easy implementation, Flywheel believes, has been a key factor in the early adoption of jiveSYSTEMS.
"We have removed a lot of barriers," he explained. "Firstly, we offer our clients unlimited coaching and support, with one-on-one 'walkthroughs' of the system via screenshare."
"Secondly, users are not restricted in how they create their videos. They can upload them straight from a webcam, via a handheld camcorder or smart phone, or professionally create studio videos."
"Importantly though, we have removed the guesswork and complexity of ensuring everyone can view the videos, regardless of what platform or device used. We do this via a completely automatic tri-transcode feature and universal player, which is seamless to both the user and viewer. This means that our video emails can be viewed on PC, Mac, iPhone, iPad, Blackberry, and Android devices."
Video email is here for the long term, and those businesses who have embraced it already have a huge lead on their competitors.
For a 'nutshell' view of the process, watch the free video at jiveSYSTEMS.com
About JiveSYSTEMS
Established by Will Franco aka Flywheel, jiveSYSTEMS is an innovative video email marketing software and training company whose strategy is to teach sales professionals, online marketers, and small business owners how leverage this new and highly effective medium of communication..
jiveSYSTEMS teaches its members how to significantly increase conversions by supplementing their plain text communications and auto-responder sequences with personalized and evergreen (reusable) video email messages.  Its system leverages a rapid-authoring workflow straight from a webcam or flip style camcorder, and also creates a mini-landing page with customizable exit links to make the videos actionable.
###