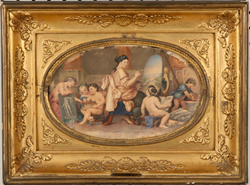 My team and I have spent the last six months preparing for this sale. We are thrilled to offer our customers over 1,800 lots of amazing merchandise. I am certain that collectors, decorators, museums, and historical societies will discover many temptations at this can't miss event. -John McInnis
AMESBURY, Mass. (PRWEB) January 15, 2019
John McInnis Auctioneers, the largest full-service auction house on Boston's North Shore, is excited to announce its upcoming four-day midwinter event which will run from January 24th-27th, 2019. On Thursday, January 24th, McInnis will present 675 lots as part of their Numismatics, Exonumia, Silver, and Jewelry sales. On Friday, January 25th, the company hosts its Fine Asian Works of Art sale, featuring over 400 lots of pan-Asian selections. On Saturday, January 26th, the English and Continental sale will tempt buyers with over 500 lots of 17th - 20th century antiques. The final day of the event, Sunday, January 27th, offers over 260 lots of fine art as part of McInnis' Paintings, Bronzes And Sculpture sale. All items from this sale are on display in the McInnis Amesbury, MA auction gallery and are available for preview starting on January 21st. For more information on this sale, please see http://www.mcinnisauctions.com.
Day one of the sale - Thursday, January 24th - launches at noon with 325 lots of currencies, tokens, badges, medals, and medallions, including fantastic selections of collectable 18th, 19th, and 20th century American gold and silver coins.
There's certain to be high interest in lot #287, a 1934 United States Federal Reserve $1,000 bill. This perfect collector's note, without any apparent issues and nearly uncirculated, is estimated at $1,300-1,600. And lot #10, a 14k gold 1893 World's Columbian Exposition presentation medal awarded to American architect Sophia Hayden - an icon in the woman's equality movement - is estimated at $2,500-5,000. Hayden designed the Women's Building for this Chicago event celebrating the 400th anniversary of Christopher Columbus' voyage to America; her venue featured exhibits from 47 nations. Included in the lot is an archive of photos and letters concerning Hayden and her work on this groundbreaking project.
Day one also includes 350 lots of silver and jewelry on offer starting at 4pm.
A full range of accessories and tableware, as well as watches and investment-quality rings, necklaces, earrings, and bracelets, will be on offer. Things are twice as nice with lot #559, a fine platinum and gold double diamond ring, estimated at $10,000-20,000. This exceptional 4.8 carat treasure features eight brilliant cut diamonds housed in a stunning platinum setting. Lot #560, a 18k gold Patek Philippe open faced lapel watch is estimated at $4,000-8,000. The dial is marked Shreve, Crump and Low. The watch features a yellow gold case enameled with a green dragon holding an arrow in its beak and a green enameled wings pin centered by a faceted amethyst. This remarkable timepiece comes with its original case and certificate of origin and warranty. And lot #562, a gentleman's 18k Gold Tri-Compax Universal Swiss Wristwatch, is estimated at $3,000-5,000. Its up to the minute features include a silvered dial and with gold batons, four subsidiary dials indicating date and moon-phase, constant seconds, and 30 minute and hour registers.
All of day one's lots can be viewed here: https://www.liveauctioneers.com/catalog/133929_numismatics-exonumia-silver-and-jewelry/
Day two of this four day auction event - Friday, January 25th - features over 400 lots of Chinese and Japanese art starting at 5pm. Enthusiasts looking to add a little foreign intrigue to their collections or interiors will truly appreciate all the pan-Asian ceramics, jades, furniture, bronzes, sculptures, paintings and textiles available.
Lot #700, a 43" tall Chinese bronze temple censer with provenance to the Burbridge Collection Foundation, is estimated at $10,000-20,000. This 19th century incense burner is decorated in extraordinary detail with solid cast pine tree-form handles, a dragon finial, dragons above foxes, flying elephants, and Fenghuang. Equally breathtaking from all angles, its back is cast with an immortal in a landscape with dragons and dogs amongst whispery clouds. Lot #905, an important pair of 19th century Chinese porcelain vases, is estimated at $4,000-8,000. The vases stand nearly two feet tall and have flared neck rims. They are decorated with chrysanthemums, shoulders with floral medallions and various diaper patterns, as well as panels of figural court scenes, women socializing, and calligraphers. Lot #872, a 19th century three part Chinese gilt bronze cloisonné urn, is estimated at $2,000-4,000. Consisting of a cover, urn, and coordinating stand, this intricately designed and well manufactured example is detailed with a low relief running floral motif, dragon-from handles, and raised medallions and characters. Lot #792, an elaborately carved Chinese Zitan wood sideboard, is estimated at $1,000-3,000. Zitan is a highly desirable type of wood which sinks in water and is a member of the rosewood family; it is considered the finest material for cabinet-making. This buffet style table, measuring 49" x 72" x 22-1/4" has a scrolled top, a front carved with figures, clouds and dragons, and integrally carved figural drawer pulls. And lot #760, a rare, large 19h century Suzani textile from Central Asia is estimated at $8,000-14,000. It measures 8'6" X 5'7" and is lavishly embellished in heavy silk embroidery.
All of day two's lots can be viewed here: https://www.liveauctioneers.com/catalog/133933_fine-asian-works-of-art/
Day three of this sale - Saturday, January 26th - will tempt buyers with over 500 lots of eye-catching decorative arts, porcelains, lighting, clocks, religious art, and other fine antiques from the 17th, 18th, and 19th centuries. The bidding starts at 11am.
One of the oldest items for sale as part of the English and Continental Sale just might be lot #1537, an Indian Vizagapatam dresser box. This rarity from the 1600's measures 3-1/4" x 5-1/2" x 2-3/4" and is lac-engraved with Hindu lettering, repeating geometric bands, and comb-work. Its gambrel-form lid is attached with an offset copper butt hinge that opens to a silk embroidered corduroy lining. It is estimated at $2,000-3,000.
The selections of decorative and desirable lighting fixtures on offer on Saturday are simply electrifying. Lot #1651, an impressive pair of rock crystal table lamps, is estimated at $3,000-5,000. Each measures 36" tall overall and feature natural rock crystal vasiform bodies with gilded bases, hardware, mounts, and finials. Lot #1222, an elaborate light gilt bronze period chandelier from the Burbridge Collection Foundation, is estimated at $5,000-10,000. This impressive, two tiered fixture measures 50" x 38" and is stunningly decorated with scrolled shells and flora, Greek winged sirens, and scrolled acanthus leaf arms.
Outstanding clocks and timepieces are also well represented on day three of this event. Lot #1495, a monumental - perhaps one of a kind - last quarter 19th century German Meissen figural clock is estimated at $35,000-55,000. This magnificent and impressive example, which would be the focal point for any room - measures 29"x 27" x 11-1/2". It comes to life with sculptures of Father Time, frolicking cherubs holding symbolic props, and a floral encrusted dial ring. And lot #1254, a Lenzkirch bracket clock with a chiming Fusee movement is estimated at $2,000-3,000. This Black Forest beauty, measuring 31-1/2" x 17" x 10", is detailed with a Gothic style walnut lancet form case with carved panels, turned and carved stepping finials, gingerbread pieced panels, and offset column bundles. Its Fusee movement includes one bell and eight beautifully striking chimes.
All of day three's lots can be viewed here: https://www.liveauctioneers.com/catalog/133960_17th-20th-c-english-and-continental/
Day four of this sale - Sunday, January 27th - is dedicated to fine and classical art, including bronzes, paintings, and sculptures. Over 260 lots go under the gavel starting at 11am.
Look for lot #1879, Pierre Felix Fix-Masseau's (1869-1937), "WWI Renault FT17 Tank and Hapsburg Eagle," to ignite a bidding battle between enthusiasts. Estimated at $3,000-5,000, this marked and signed bronze measures 8-1/2" x 15" x 9" and packs alot of detail - and history - into a small volume.
Sunday's sale includes several important landscape paintings with the ability to take viewers to places long ago and far away. Lot #1901, a pair of Roman-themed paintings by Jean Victor Louis Faure (1786-1879) is estimated at $80,000-140,000. These oil on canvas works include "A View of the Forum Romanum" and "The Coliseum." Each is signed, framed, and measure 33" x 43" overall. Lot #2000, Theodore Clement Steele's (1847-1926) "Autumn Brown's County" is estimated at $10,000-20,000. Steele was an American Impressionist painter known for his Indiana landscapes, so it is very possible that this autumnal view originated in the Hoosier state.
Also featured on Sunday are a number of appealing 19th century portraits and paintings of women. Lot #1906, Auguste Toulmouche's (French 1829-1890) "Reverie" is estimated at $9,000-14,000. This framed, oil on canvas work is signed and dated 1879. It measures 30-1/2" x 22" overall and depicts an elegantly dressed, daydreaming woman holding a note in one hand. What could she be thinking about? And it's all work and no play with lot #1823, Benjamin West's (1738-1820) "The Artist In Her Studio." This framed, signed watercolor features a sitting female painter surrounded by glowing, cherubic children holding traditional fine art symbols. It is estimated at $20,000-30,000.
All of day four's lots can be viewed here: https://www.liveauctioneers.com/catalog/133962_paintings-bronzes-and-sculpture/
According to John McInnis of John McInnis Auctioneers, "My team and I have spent the last six months preparing for this midwinter event and we are thrilled to offer our customers and collectors over 1,800 lots of truly amazing merchandise. Included in the offerings are absolute rarities and important historical artifacts from several prestigious collections, including the Burbridge Foundation Collection in Oklahoma City. Given its sheer scope, quality, and range, this sale truly has something for everyone! I am certain that all collectors, decorators, museums, and historical societies will discover many temptations at this can't miss sale."
About John McInnis Auctioneers:
John McInnis Auctioneers, the largest full-service auction house on Boston's North Shore, specializes in the sale of fine art, antiques, and estates. Headquartered in a 12,000 square foot, 1930s-era former grocery store in Amesbury, Massachusetts, the company also has an office in Stuart, Florida. McInnis offers over 6 premiere auctions annually, as well as provides ongoing appraisal, consultation, liquidation, and property sale services. The McInnis auction team includes experts knowledgeable in 18th, 19th, and 20th century fine and decorative art, accessories, and other key antique categories. John McInnis Auctioneers is owned by John McInnis, a lifelong antiques enthusiast and licensed auctioneer with over three decades of professional industry experience.
John McInnis Auctioneers is located at 76 Main Street, Amesbury, MA 01913 and can be reached by telephone at (978) 388-0400 or email at mcinnisauctions@yahoo.com. For more information regarding John McInnis Auctioneers, please visit http://www.mcinnisauctions.com.