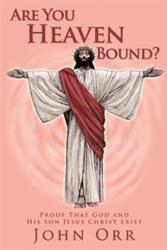 To help non-believers accept Jesus Christ as the Son of God
MONROEVILLE, Pa. (PRWEB) March 12, 2013
"Where do you want to spend eternity after you leave this earth?" This is the question that John Orr poses to readers in his 2012 book, "Are You Heaven Bound?: Proof That God and His Son Jesus Christ Exist" (published by CrossBooks), which serves as a wake-up call to nonbelievers by focusing on what many consider to be the only way to heaven: eternal salvation in Jesus Christ.
Orr contends that people are on earth for a very short time and that they should strive to spend eternity with God. In "Are You Heaven Bound?," he says the path to heaven begins by believing in His Son Jesus Christ. To nudge them onto that path, he offers an overview on most of the 66 books of the Bible, using scripture to add weight to his perspective and advice.
An excerpt from "Are You Heaven Bound?":
"Jesus made this promise that the Holy Spirit would come into the lives of everyone who accepts Him as the Son of God, and thus everyone has the promise of eternal life with the Father. Once a person becomes a Christian, their lifestyle should change; they will want to please God and not themselves."
Orr has studied the Bible for 60 years, and he is most interested in prophecy in scripture. "'Are You Heaven Bound?' is meant to help those who know very little or nothing about the Bible and help them to recognize their lack of knowledge of the Bible," he explains. "To help non-believers accept Jesus Christ as the Son of God."
"Are You Heaven Bound?"
By John Orr
Hardcover | 6 x 9in | 108 pages | ISBN 9781462721382
Softcover | 6 x 9in | 108 pages | ISBN 9781462721405
E-Book | 108 pages | ISBN 9781462721399
Available at Amazon and Barnes & Noble
About the Author
John Orr served as a trustee and is currently a deacon in his church. After his first wife died of cancer, he remarried and now has seven children. Orr lives in Monroeville, Pa.
CrossBooks, a division of LifeWay Christian Resources of the Southern Baptist Convention, is a Christian publishing imprint committed to bringing more Christian voices into the publishing industry. Established authors, first-time authors, and authors anywhere in between can meet their goals and fulfill their vision for their books by publishing with CrossBooks. CrossBooks' innovative style of publishing blends the best of traditional and self-publishing. While our authors contribute monetarily to cover the cost of publishing, we maintain a strict moral and quality standard that every manuscript must meet for us to publish. For more information on publishing your Christian book with CrossBooks, log on to crossbooks.com or call 1-866-879-0502.