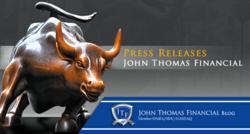 Stocks Keep Charging Forward, Wayne S. Kaufman Chief Market Analyst John Thomas Financial
(PRWEB) March 12, 2013
Stocks continued their relentless rise Monday March 11, 2013 as the Dow Jones Industrials made another all‐time high while the S&P 500 printed another 52‐week high and is not far from its all‐time high set in October 2007. Since the November 16th bottom the S&P 500 has rallied 15.85%. The leading sectors Monday were Financials and Health Care, which are also the leading sectors year‐to‐date with gains of 11.78% and 11.76% respectively.
Friday's better than expected payrolls report caused bond yields to jump, with the 10‐year note yield hitting the highest level since March 2012. This has caused the spread between equity and bond yields to narrow to levels not seen since April 5th, which was an important top for equities.
How equities react at this point will be a test for the thesis we have expressed since December of last year, which is that investors may have reached a "point of recognition" where they no longer believe the economy is going to fall back into another recession and that the stock market is vulnerable to another dramatic swoon.
In the short‐term a pullback is possible at any time, as stocks in aggregate are overbought and options buyers are changing from pessimistic to optimistic, which is a contrary sentiment indicator. But the very strong market breadth we are seeing argues for continued strength in equities. Since February 25th when only 3.87% of the S&P 1500 advanced on the day we have had ten sessions in a row with positive market breadth, an unusual streak which foreshadows higher prices in the future. In addition, the strong breadth has caused another high in the advance decline line of the S&P 1500, another indicator that points to higher prices.
The next few weeks will feature a quadruple witching options expiration which comes this week, political drama regarding the continuing resolution to fund the government which is due by March 27th, and the end of the first quarter which brings with it window dressing and earnings pre-announcement season. Stocks then enter a period of very positive seasonality from March 27th through April 4th. That takes us to the cusp of first quarter earnings season, and if it is anything like fourth quarter when about 69% of stocks beat analyst estimates, that should be another positive for equities.
For timely insights, news, and commentary on economics and financial markets, visit the John Thomas Financial Blog or join the John Thomas Financial community on Twitter and Facebook.
About John Thomas Financial:
John Thomas Financial, a member of FINRA and SIPC, is an independent broker-dealer and investment banking firm headquartered in New York City's Wall Street district. Emphasizing a client-centric approach to managing all aspects of its business, John Thomas Financial and its affiliates offer a full complement of retail brokerage, private wealth management, and corporate advisory services tailored to the unique needs of its clients. The firm publishes the Fiscal Liquidity Index, a unique daily indicator that looks at government spending and its impact on the financial markets, The Kaufman Report, a weekly technical stock market analysis, and The John Thomas Financial Economic Outlook, a report analyzing consumer sentiment, market outlook, credit cycles and dozens of other market influences.
Important Disclosures:
The information provided in this publication is for informational purposes only. Investors should consider this report as only a single factor in making their investment decision. This informational report is not an offer to sell or a solicitation to buy any security. This report has been prepared as a matter of general information. It is not intended to be a complete description of any company, and is not an offer to buy or sell any security. All facts and statistics are from sources believed to be reliable, but are not guaranteed as to accuracy. Before acting on the materials herein you should consider whether it is suitable for you particular circumstances and, if necessary seek professional advice investments involve risk and an investor may incur losses. Past performance is no guarantee of future performance. Trading and investment decisions are the sole responsibility of the reader.