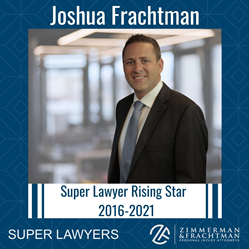 PARKLAND, Fla. (PRWEB) February 22, 2021
Zimmerman & Frachtman, a leading trial law firm based in Florida, is proud to announce that founding partner Joshua Frachtman has been named a Super Lawyers' Rising Star for 2021. Frachtman has received this prestigious honor every year since 2016, and this latest triumph marks his sixth consecutive year on the list.
Super Lawyers is a rating service that recognizes a select number of lawyers in each state from over 70 fields of practice. Its Rising Star honor is granted to those who have demonstrated outstanding achievements in their field and have received significant peer recognition.
Aimed at attorneys still forging their careers, the Rising Star program specifically focuses on lawyers who are 40 years old or younger or who have been practicing law for 10 years or less. Only 2.5 percent of lawyers in each state are named to the Rising Star list, establishing them as the top talent in the law profession.
"I would recommend this firm and Attorney Joshua Frachtman to any of my friends or colleagues in a heartbeat," one client wrote of their experience working with Frachtman. "Their representation is second to none and they are there for you during every step of the process. Josh's professionalism and track record speaks for itself. If you are in need of representation for a personal injury matter this is the go-to firm in South Florida!"
Frachtman graduated from Nova Southeastern University Shepard Broad College of Law in 2007 and passed his bar exam that same year. He went on to spend the early days of his career defending a range of civil issues, many of which involved personal injury litigation. He joined Zimmerman & Frachtman in 2012 and began representing clients in the Parkland area. Specific types of cases he has covered include personal injury, wrongful death, medical malpractice, and nursing home neglect.
Frachtman was born in Plantation, Fla., and spent much of his childhood in Coral Springs and Parkland. He currently resides in Parkland with his wife and two children. He received his B.S. from the University of Florida in Gainesville.
The dedicated team of attorneys at Zimmerman & Frachtman are thrilled to see Frachtman receive this recognition once again.
More About Zimmerman & Frachtman
At Zimmerman & Frachtman, every employee is a dedicated member of the team whose primary concern is defending the injured and seeking justice on behalf of our clients. The firm understands that no two cases are alike; therefore, no two cases are prepared the same way.
Over the past 25 years, the firm's trial attorneys have recovered more than $300 million in verdicts and settlements on behalf of our clients. While we are quite proud of our past accomplishments, we remain true to the ideals of compassion, tenacity, consistency, discipline, and respect for others. We look forward to achieving results for our present and future clients with unwavering commitment to our ideals.
Contact Zimmerman & Frachtman today by calling 954-509-1900 or visiting their website.