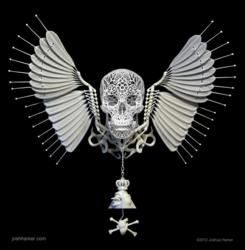 What the "Big 3" automakers were to the the 20th century is what this new generation is poised to be in the 21st. The ocean of sectors that will be using the new technologies & networks, touch all levels of skill & expertise...
Chicago, IL (PRWEB) November 28, 2012
The biggest and brightest players in the 3D printing industry, including the very inventor of the technology, have joined together in support of "Anatomica di Revolutis", the new Kickstarter project by artistic visionary and one of the 3D printing movement's most recognized and successful artists, Joshua Harker. Their individually delivered "Join the Revolution" chorus closes Harker's video presentation and echoes the inspiration for his latest project… the Third Industrial Revolution. Other participants include world renowned designers, arts advocates, and industry software titans.
Known for his technical achievements in creating previously unmakeable forms as well as powerfully lyrical imagery, Harker uses his ground breaking art to present a concept of social transformation brought about by the latest convergences of social media and network communication, digital modeling, 3D printing and the crowd-funding phenomenon. Considered a pioneer and visionary in the new medium, his previous campaign "Crania Anatomica Filigre: Me to You" is the #1 most funded Sculpture project in Kickstarter history.
The project expresses optimism and illustrates the revolution's background and the coming changes it promises to usher in. Harker states, "At a time when things have been spinning absolutely out of control with global governments and economies, there are very real and functional ways to immediately start affecting positive and productive changes. Although this revolution is disruptive, it is not about Molotov cocktails and secret handshakes. It is non-violent and imminent. It will profoundly change the way we function socially, economically, and democratically."
Harker's work has gained international recognition and acclaim and is among over 2000 collections including such notable artists as Andy Warhol, Shepard Fairey, and Ron English, as well as being a staple of the internet arts and design buzz. Besides exhibiting and being collected internationally, his work has appeared in TIME Magazine, WIRED Magazine, The Wall Street Journal, The Economist, MSNBC, National Geographic, MAKE Magazine, 3D Artist Magazine, PC World, TechHive, TED Talks, Boing Boing, Core77, Cool Hunting, Popular Science, and countless others.