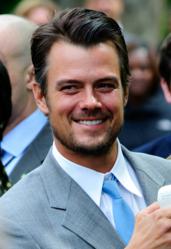 EL SEGUNDO, CA (PRWEB) March 23, 2013
Arguably the most anticipated awards show of the year for young viewers, the 2013 Kids' Choice Awards on Nickelodeon is scheduled to air live at 8 p.m. ET from Los Angeles. Top personal finance site, GoBankingRates.com, investigates how award host and actor, Josh Duhamel, does his part to educate children about smart savings account habits by setting a good example with his own finances.
The GoBankingRates report examines Josh Duhamel's present net worth, which is currently estimated at $15 million, and identifies the specific ways Duhamel has been so successful at growing his savings account.
Findings uncover five lessons children and teens can learn from Duhamel and put into practice to help their savings accounts thrive.
The award show's wide reach and influential host will undoubtedly help set the tone that kids of any age can start learning about money; a survey by financial literacy organization, Junior Achievement, found 81 percent of teen respondents said grades K-12 are the best time to learn about money management.
To read the full report, click here.
About GoBankingRates
GoBankingRates.com is a national website dedicated to connecting readers with the best interest rates on financial services nationwide, as well as informative personal finance content, news and tools. GoBankingRates collects interest rate information from more than 4,000 U.S. banks and credit unions, making it the only online rates aggregator with the ability to provide the most comprehensive and authentic local interest rate information.
For questions about this report or to schedule an interview with a GoBankingRates editor, please use the contact information below.
Contact:
Jaime Catmull, Director of Public Relations
GoBankingRates.com
JaimeC(@)GoBankingRates(dot)com
310.297.9233 x261
###
Source: Junior Achievement, New Poll Shows Managing Money is Today's "Birds and Bees" Talk, April 5, 2011.
Photo courtesy of Daniel Ogren via Wiki Commons.