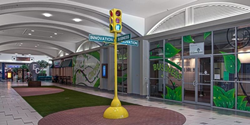 "Despite being the most entrepreneurial state in the country, too few Florida businesses have access to the tools and support services that are so critical to their growth..." - Roger Cook
ORLANDO, Fla. (PRWEB) February 26, 2019
Small businesses make up more than ninety percent of Florida's economy and employ nearly half of the state's private sector workforce. The National Entrepreneur Center (NEC) announced today that JPMorgan Chase has invested $185,000 to help the center provide training and resources to underserved small businesses in Central Florida.
This funding will enable the NEC to conduct targeted business training events, improve online access to NEC resources, and conduct a variety of business education seminars for both low and moderate income neighborhoods.
The National Entrepreneur Center (NEC) opened in June of 2003 through the partnership of Orange County Government, The University of Central Florida, and Walt Disney World to improve efficiency, reduce duplication, and streamline access to small business support services throughout Central Florida. The NEC has since grown to include a shared facility at Orlando Fashion Square that is funded by twelve local sponsors and is home to fourteen non-profit, business support organizations. These business support organizations provide entrepreneurs and small business owners with easy access to one-on-one business coaching, business education, and a variety of events to accelerate business development, most of which is provided at no or low cost to business owners. "Our collaborative model of economic development through small business development has made the Central Florida economy a national leader in job creation," said NEC President, Jerry Ross.
"Despite being the most entrepreneurial state in the country, too few Florida businesses have access to the tools and support services that are so critical to their growth," said Roger Cook, head of Chase Middle Market Banking in Central Florida. "By partnering with organizations like the National Entrepreneur Center, we can help local business overcome those obstacles and create more economic opportunity for the Central Florida community."
The funding also provides financial support for the Central Florida International Trade Office (CFITO) which was originally founded in 2014 through a partnership between JPMorgan Chase and Orange County Government. The CFITO is located at the National Entrepreneur Center and assists businesses with all aspects of international trade, including importing and exporting.
Jerry Ross, President of the National Entrepreneur Center said, "This generous funding from JPMorgan Chase will be leveraged through fourteen non-profit business support organizations to accelerate our momentum as a region while continuing to assist the thousands of entrepreneurs who visit us each year. Having partners like JPMorgan Chase is essential to keeping Central Florida at the forefront of the innovation economy. Without our funding partners and corporate sponsors, we cannot do what we do for the community!"
About the National Entrepreneur Center:
The National Entrepreneur Center is home to fourteen independent business support organizations, all with a single mission: to accelerate the growth and development of small businesses throughout Central Florida. The center offers a variety of services, including one-on-one business coaching, business seminars, networking events, and assistance for international trade, most of which are provided at no cost to business owners.
For more information visit http://nationalec.org
Follow the National Entrepreneur Center on Facebook: https://www.facebook.com/NationalEC/
Follow the National Entrepreneur Center on Twitter: https://twitter.com/nationalec
About JPMorgan Chase & Co:
JPMorgan Chase & Co. (NYSE: JPM) is a leading global financial services firm with assets of $2.6 trillion and operations worldwide. The Firm is a leader in investment banking, financial services for consumers and small businesses, commercial banking, financial transaction processing, and asset management. A component of the Dow Jones Industrial Average, JPMorgan Chase & Co. serves millions of customers in the United States and many of the world's most prominent corporate, institutional and government clients under its J.P. Morgan and Chase brands.
Information about JPMorgan Chase & Co. is available at https://www.jpmorganchase.com./