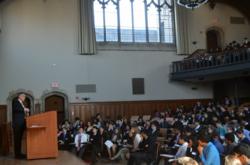 Washington, DC (PRWEB) March 27, 2013
Junior State of America students from across the nation this month held civic education conferences at universities where they contemplated the theme "Rhetoric vs. Reality: Facing the Facts" which sought to illuminate the lack of nuance and specifics in today's public debates. These one-day conventions were held at the University of Connecticut at Stanford, Boston University Law School, The University of California, Merced, Santa Clara University, Princeton University, and Loyola Marymount University.
The main event of these conferences were the debates on a variety of issues ranging from right-to-work laws to drone policy, to the media's perceived focus on celebrity news. The Students were also addressed by several impressive keynote speakers including Rep. Rush Holt (NJ-12), who discussed the importance of STEM fields in relation to civics and government. These conferences also provided an opportunity for students in junior leadership positions to gain valuable leadership experience in running events more locally focused than the larger overnight conventions held in the fall, winter, and spring of each year.
Campaigns for elected office were also at the forefront of these conferences, with candidates making their cases to students at the conferences during candidates forums and speeches. The campaigns, for offices such as Governor, Lt. Governor, and Regional Mayor, will culminate in elections at the April Spring State conventions.
Junior State of America (JSA): Providing civics education and leadership programs for nearly 80 years, JSA is the largest student-run organization in the United States. School-year programs take place in more than 450 secondary schools in 35 states, with more than 10,000 members. The JSA program is supported by the Junior Statesmen Foundation Inc., a 501(c)(3) tax-exempt educational corporation, which provides guidance to JSA's student leaders. It has offices in San Mateo, Calif., and Washington, D.C. More information is available at http://www.jsa.org/ or jsa(at)jsa(dot)org.