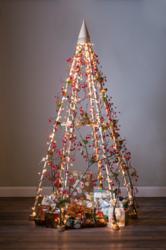 The Jubiltree Company brings us a new take on an old tradition with its modern and sustainable alternative Christmas tree."
Anchorage, Alaska (PRWEB) November 16, 2012
A market for alternative Christmas trees has sprouted in recent years, with few options ready to satisfy it. Consumers concerned with sustainability are searching for a more eco-friendly Christmas tree, while the design-conscious are searching for a tree that fits into their carefully decorated spaces. Major news outlets have covered the trend, and numerous blogs and online magazines have published "top ten" lists of the very best alternative Christmas trees.
Recently a company based in Alaska has added a new option to this growing market. The Jubiltree Company of Anchorage has debuted the Jubiltree Wooden Tree, a 7-foot alternative Christmas tree crafted from American hardwoods such as maple, cherry, and walnut. It is reusable year after year, and it provides a stylish and sustainable way to bring Christmas into a home or business.
The Jubiltree Wooden Tree can be adapted to reflect the unique taste of any owner. It will resemble a traditional evergreen when decorated with classic ornaments and Christmas garland, or serve as a modern Christmas tree when trimmed with contemporary materials. For the consumer concerned with environmental sustainability, the tree may be decorated with all eco-friendly Christmas decorations to ensure it is good for the earth from top to bottom.
"I chose this tree because I was looking for something modern and green, and I love it," shared Molly Scofield of Bend, Oregon. "Last year I decorated it with silver branches and small white lights. It looked very modern while also capturing the warm glow of a Christmas tree. I love that it is made of natural materials and I can use it every year."
The Jubiltree Wooden Tree is also an excellent choice for businesses, since its design lends itself to the use of nontraditional decorations to reflect a company's distinctive brand. And because the tree is freestanding and can be used easily with holiday lights, it offers a design advantage over other alternative Christmas trees currently on the market.
The Jubiltree Wooden Tree is made in the USA, unlike most artificial Christmas trees which are typically manufactured in China. Maine woodworkers craft the trees in a continuation of the state's long tradition of wood products manufacturing.
The tree's "Made In The USA" credentials are a reflection of the core values of The Jubiltree Company. "Our driving principles can be summed up with good design, good stewardship, and good work," says company founder Sarah Monkton. "We believe the modern company should be focused not only on the bottom line, but also on having a positive impact in the world it does business in."
Jubiltree Wooden Trees are available online and in three different styles at http://www.jubiltree.com.