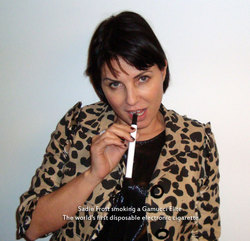 The Gamucci Elite disposable cigarettes are fantastic and I want to get one of the Gamucci Micro rechargeable kits
Soho, London (PRWEB) January 14, 2009
Jude Law's ex wife, Sadie Frost has recently been using the Gamucci range of electronic cigarettes to beat the smoking ban and stay indoors in the warmth as opposed to the "frosty" cold weather.
At a recent private screening of Sadie's directional debut a number of high profile celebrities enjoyed the Gamucci Electronic Cigarettes as they sat watching the films. The event was reminiscent of the days when smoking was permitted in cinema halls.
" The Gamucci Elite disposable cigarettes are fantastic and I want to get one of the Gamucci Micro rechargeable kits " Sadie told Mo Zar, Head of Client Relations of Gamucci Ltd.
The Gamucci Elite is the world's first patented disposable electronic cigarette, that is completely legal to smoke in enclosed public places. It is made up of a nicotine cartridge, a vaporizer and a battery. When the user inhales on the device the nicotine liquid in the cartridge is vaporized into a "smoke" like vapour that gives users the feeling and satisfaction of smoking regular cigarette but without any of the harm. It contains no cancer causing ingredients yet gives the smoker the nicotine fix they crave for. As there is no tobacco contained and nothing is lit or burnt they do not fall under the smoking bans worldwide. The Gamucci Elite lasts for around 600 puffs the equivalent of 40 cigarettes and retails for around $20 / £11 / €15, which is approximately equivalent to the cost of 2 packs of regular cigarettes.
"I love the fact that you can smoke Gamucci cigarettes indoors and get a satisfying fix, and everyone is talking about how cool they are," Sadie commented.
Gamucci Electronic Cigarettes have been on sale for over 12 months and are currently being distributed in 18 countries worldwide including the UK, USA and most of Western Europe.
About Gamucci Ltd:
Gamucci Ltd is a London based manufacturer of innovative electronic smoking products. Gamucci products are completely non-flammable and use state of the art sophisticated micro-electronics. Gamucci Ltd is the inventor of the world's first disposable electronic cigarette and cigar and is the only manufacturer of electronic cigarettes backed by a worldwide product liability insurance policy. The management of Gamucci have a vision of helping to create a smoke free environment around the world by offering clean smoking without tobacco, tar and the thousands of other carcinogenic chemicals found in traditional cigarettes.
PR Contact:
Umer Sheikh
Gamucci Ltd
US Tel (Toll Free): +1 866 634 1024
UK Tel: +44 (0)870 471 7569
FR Tel: +33 (0)17070 8526
Web: http://www.gamucci.com
Global HeadQuarters:
Gamucci Ltd
Unit 9
Imperial Studios
Imperial Road
London
SW6 2AG
United Kingdom
###