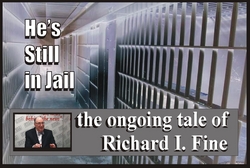 Judicial Benefits & Court Corruption
Los Angeles, CA (PRWEB) July 7, 2009
Prominent former Attorney Richard I Fine, made a second 9-1-1 call from his cell in the Los Angeles County Central Men's Jail to the Full Disclosure Network®, raising alarming issues regarding the ethics and procedures of the U. S. Central District Court in California. Having spent the last four months in solitary confinement, Richard Fine describes in his court documents what appears to be the shocking tactics of an insular Judicial buddy system that could only be compared to the Code Of Silence deployed by street cops when one of their own is confronted with accusations of abuse.
WATCH VIDEO HERE: http://www.fulldisclosure.net/Blogs/71.php
In an exclusive thirteen minute video news blog, Full Disclosure Network® has combined court records and the audio report via telephone from Richard Fine who is representing himself against the entire California Judicial system, from his jail cell. View related videos from the URLs below.
LEGAL BATTLE AIDED BY VOLUNTEERS
With the help of cadre of dedicated volunteers acting as messengers, paralegals, secretarial staff and moral support base, Richard I Fine has used his total recall of the Federal Codes to dictate and draft dozens of court filings in several on going cases.
US California Central District Court Case #09-CV-1914 Richard Fine vs Sheriff of L.A. County
US California Central District Court Case #08-CV-2906 Richard Fine vs State Bar of California
US Court of Appeals 9th Circuit Case #09-71692 Richard Fine vs Sheriff of L.A. County
Read the actual court documents, as attached files to this release.
He is determined to win his freedom from an indefinite jail sentence for civil contempt of court, and to win back his license to practice that was taken from him while fighting to reform the California Judicial System.
JUDICIAL CONFLICT?
In the video and in court documents Fine describes how Federal Magistrate Judge Carla Woerhle delayed action, issued court orders that were never acted upon, and wrote a Report and Recommendation to deny Fine's Writ of Habeas Corpus (request for immediate release from jail) without having ever read the petition. And, in conclusion, he contends that by denying his Writ of Habeas Corpus, Judge Walters also ignored the fact that no opposition had been filed against the petition by either the Respondent, Sheriff Baca, the Superior Court, or Judge Yaffe, and exclaims amazement that his petition was denied and that he remains in jail for over four months.
At the conclusion of the video, Fine alleges that both Magistrate Judge Woerhle and U. S. Judge John F. Walter failed to disclose a serious conflict that should have precluded them from even considering the petition.
Related Full Disclosure Network® Video Links to Cable TV Series: "Judicial Benefits & Court Corruption"
Richard Fine's First 9-1-1- Call From Jail http://www.fulldisclosure.net/Blogs/68.php
Interview with Fine Day Before Incarceration: http://www.fulldisclosure.net/Programs/538.php
Judicial Benefits & Court Corruption http://www.fulldisclosure.net/Programs/539.php
Judicial Watch on Illegal Judicial Payments http://www.fulldisclosure.net/Programs/540.php
L.A. Times Misses Mark & Supreme Court Case http://www.fulldisclosure.net/Programs/541.php
Judge Defends "Coercive Confinement" http://www.fulldisclosure.net/news/2009/05/coercive-confinement-judicial-benefits.html
###