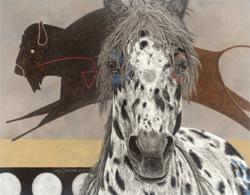 This piece really showcases Judy Larson's innovative technique to creating true works of art.
San Francisco Bay Area, CA (PRWEB) December 31, 2011
World Wide Art, Inc., one of the leading art galleries and custom conservation framing shops in the nation, has announced that "The Buffalo Tipi," a piece by artist Judy Larson, is now available at its store.
Larson has possessed a lifelong passion for art, learning at a young age from her father, a professional illustrator. Although she has found success as a commercial artist, illustrator and art director, her true calling is wildlife art. "The Buffalo Tipi" conveys the deep meaning of the horse and buffalo to the Plains Indians.
"We are thrilled to offer one of Judy Larson's best paintings to our customers," said David Wilfong, spokesperson for World-Wide-Art.com. "This piece really showcases her innovative technique to creating true works of art."
Larson approaches her art in a way that is distinct from most wildlife painters in that she uses scratch board, a seldom-used technique requiring extreme patience and attention to detail. Her exacting process begins with a smooth, hard sheet of China clay affixed to board, on which she paints a silhouette of her subject in black India ink. She then carves the outline she has created into the clay with X-acto blades, and once the subject has been etched, it is a full black and white rendering of the work she is in the process of creating. Finally, Larson uses airbrushes, gouache and acrylics to add color and bring her work to life.
"The Buffalo Tipi" was created by using this method, and Larson's patience and dedication is certainly reflected in this moving work of art. The painting centers on a beautiful Appaloosa horse, a breed favored by the Plains Indians for pursuing buffalo and other prey. Blue and red paint adorn the horse's face and body in symbols characteristic of a hunting steed, and symbols are painted on the tipi wall behind the horse as well.
The buffalo symbol depicted in this work signifies gratitude for past hunting successes, and other symbols are intended to give the horse sharp vision and to help the hunter spot life-sustaining buffalo from a distance. In the Plains Indian tradition, a hunter's wife or mother would paint a symbol on the horse that represented her secret prayer for her loved one while he was on the hunt.
"'The Buffalo Tipi' stands out from Larson's entire body of work," said Wilfong. "The symbolism in this painting is profound and illustrates the richness of the Plains Indians' culture."
In addition to Larson's "The Buffalo Tipi," World Wide Art offers countless other new releases, limited editions and honored collections by today's top artists. For more information, please visit http://www.world-wide-art.com.
# # #