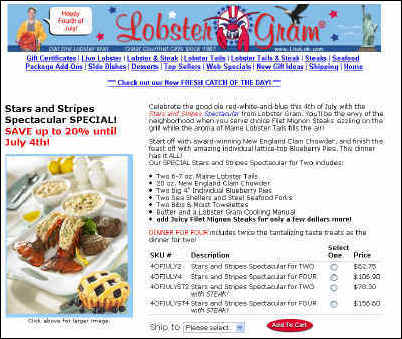 Biddeford, ME (PRWEB) June 29, 2007
Summertime gifting just got "steamier" with a tasty gift idea perfect for a memorable backyard barbecue from Lobster Gram - the "Stars and Stripes Spectacular" with steaks. Red, white and blue are all represented in this limited-time special dinner package, featuring sweet Maine lobster tails with tender Filet Mignon steaks, 20 oz. New England Clam Chowder and Blueberry Pies. This July 4th barbecue grill feast will be a popular gift idea as well as a backyard grilling favorite for any occasion, simply go to the Lobster Gram website.
"Lobster Gram strives to create fun and unique gift ideas in a variety of dinner packages for its customers, to ensure we have something to offer for every occasion. Our new 'Stars and Stripes Spectacular' package is a great gourmet gift idea. People are always looking for unique barbecue food as well as creative gourmet food gifts to give as a wedding, anniversary or graduation gift," stated Dan Zawacki, owner and founder of Lobster Gram.
The Stars and Stripes Spectacular with steaks gift basket includes two 6-7 oz. Maine lobster tails, two 6 oz. Filet Mignon steaks, 20 oz. New England Clam Chowder and two 7 oz. Blueberry Pies.
Other featured Summer gourmet seasonal packages at Lobster Gram:
USDA Prime Hamburgers come in packages of Eight 8 oz. super-juicy, flavor-packed burgers, ready for the grill.
USDA Prime Dry Aged New York Strip steaks gift includes Two 16 oz. Prime Dry Aged New York Strip steaks and free Private Label Gourmet Steak Sauce (while supplies last).
Lobster Gram has been providing great gourmet gift ideas since its inception in 1987. Starting with its trademark "Lobster Gram Deluxe", and "Lobster Gram" packages, Lobster Gram has grown to become the #1 live lobster gift delivery company in America, with a 40-page catalog and hundreds of gift choices, including the new lineup of gourmet baskets. Known for ocean-fresh, live Maine lobster gifts with all the trimmings, Lobster Gram also has 10 varieties of exotic lobster tails from around the world, tenderly aged gourmet steaks, crab, shrimp, creamy chowders, ready-to-heat lobster appetizers and decadent desserts.
To learn more about Lobster Gram and its products, a free catalog is available by calling Lobster Gram's toll free number at 1-800-LIVE-LOB (1-800-548-3562) or requesting one at the Live Lob website. Lobster Gram also has an E-club with great perks, such as private special offers and discounts, and sneak peeks at new products.
# # #