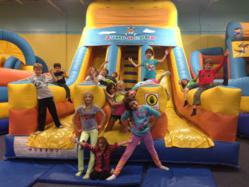 "We are honored to partner with ARC Broward for our Grand Opening. Our goal is to establish Jump A Roos as Broward's top family destination for play, party and charitable causes," Greg Fefferman, Owner Jump A Roos
Tamarac, FL (PRWEB) March 28, 2013
FOR IMMEDIATE RELEASE
Jump A Roos Announces Grand Opening to Benefit ARC Broward
Jump A Roos, an indoor family entertainment center, announces the grand opening of its second location in Tamarac on Friday, March 29, 2013 from 4:00 - 9:00 p.m. The event is free and open to the public, and Jump A Roos will be accepting suggested donations of $10 per person at the door to benefit ARC Broward.
"We are honored to partner with ARC Broward for our Grand Opening.  Our goal is to establish Jump A Roos as Broward's top family destination for play, party and charitable causes," Greg Fefferman, owner of Jump A Roos stated.
Looking to build on the success of their first location at the Southland Mall in Cutler Bay, which was named the Best Indoor Activity in Miami-Dade County by South Florida Parenting Magazine, Jump A Roos is opening a new facility at 6830 N. University Drive in Tamarac.
The new Jump A Roos is located at the former Funtastic Cafe which closed shortly after the café's manager unfairly asked ARC Broward campers to leave last summer. To show support for the children who were unjustly treated, Mr. Fefferman, approached ARC Broward with the idea of raising funds for individuals with intellectual disabilities at the grand opening.
Proceeds from the Jump A Roos grand opening event will benefit ARC Broward's critically needed services for children and adults with intellectual and developmental disabilities. For more information about ARC Broward, visit http://www.arcbroward.com or call (954) 746-9400. For more information about Jump A Roos and the grand opening event, call (954) 721-5867.
ABOUT ARC BROWARD
Incorporated in 1956, ARC Broward is a nationally accredited, private, 501(c)(3) not-for-profit organization providing services to children and adults with autism, Down Syndrome, and other intellectual disABILITIES, as well as those with various life challenges. ARC Broward operates three social enterprises including the ARC Broward Learning Institute, ARC Broward Culinary Institute and ARC Broward Electronics Recycling Services and provides services through 22 programs in 8 locations across Broward County. By working hand in hand with families, guardians, businesses, civic organizations, donors and funders, encouragement and opportunities that create life-changing outcomes are provided so that people with disABILITIES and other challenges can live, learn, work and play in their communities. To learn more or to donate visit http://www.arcbroward.com or call 954-746-9400.
About Jump A Roos
Jump A Roos is the largest indoor inflatable play and party facility in South Florida.  The Tamarac location features nearly 19,000 square feet, 8 huge inflatable units, a separate toddler area, 5 private party rooms and a full menu.  The indoor family entertainment center features inflatable obstacle courses, slides and premium jumping games, redemption games, and multiple private party rooms.
###
MEDIA CONTACT:
Natalie Horowitz
Director of Marketing and Communications
(954) 746-9400, ext. 2004
nhorowitz(at)arcbroward(at)com
http://www.arcbroward.com