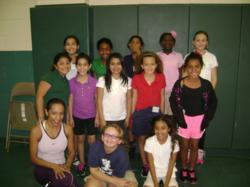 Helping kids get fit one jump at a time.
Coral Springs, FL (PRWEB) March 22, 2013
Communities of Distinction television show, hosted by Terry Bradshaw, kick-started the year by donating employee time and 100 jump ropes to support Jumping for Kids programs in Palm Beach and Broward Counties. This donation is another example of how the show's producers are working to bring health and hope to those less fortunate in the community.
"The chance to assist the kids in our community in building self esteem and combat childhood obesity by donating jump ropes and our employee's time was an opportunity we could not pass up" said Doug Scott, Executive Producer of Communities of Distinction.
Kyra Burton, Program Director for the show, has been supporting the programs by volunteering and assisting in teaching lessons at local schools and by producing a feature story describing the organization and its mission. "These jump rope programs provide a vehicle for positive interaction and learning among children of various ages and backgrounds. In many instances, these children are learning for the first time about getting fit. We hope these are habits that will last a lifetime. Jumping for Kids is clearly an outstanding organization with an excellent program", she said.
"Because of the generosity of Communities of Distinction and Mr. Scott's donation, more kids will have jump ropes", said Jumping for Kids President, Annie Bissoondial, who was injured in a car accident and went on to set a Guinness World Record in jump roping herself. "We are so happy that they are committed to helping us where we need it most, with ropes. Jumping for Kids would like to express our sincere gratitude to Mr. Scott for his help to our organization."
Jumping for Kids is a non-profit organization that was founded in 2012 and is dedicated to combating childhood obesity and improving self esteem in children. For more information on Jumping for Kids, visit http://www.jumpingforkids.org.
Communities of Distinction with Terry Bradshaw is headquartered in Coral Springs, FL and features communities around the globe. Further information on Communities of Distinction can be found on the internet at watchcod.com.