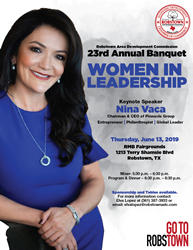 ROBSTOWN, Texas (PRWEB) June 10, 2019
Workforce solutions powerhouse Pinnacle Group is thrilled to announce that its Founder and CEO Nina Vaca will be the keynote speaker at the Robstown Area Development Commission's 23rd Annual Banquet, taking place on June 13 at the RMB Fairgrounds in Robstown, TX.
The event's theme is "Women in Leadership." Vaca will share her experiences as a female Latina entrepreneur and discuss the journey that has led Pinnacle Group to be named the nation's fastest-growing women-owned company and among the Inc. 550/5000 list for over a decade.
Vaca will be available for interviews before and after the event.
WHAT:
Robstown Area Development Commission's 23rd Annual Banquet, focused on Women in Leadership.
WHO:
Keynote speaker Nina Vaca – a renowned Latina entrepreneur, global leader, philanthropist, and Founder and CEO of Pinnacle Group.
Other attendees will include:

Mayor Mandy Barrera
Judge Barbara Canales, Nueces County Judge
Elva Lopez, Executive Director for RADC
Additional elected officials, County Judges, Corpus Christi City Council members, Robstown City Council members and many other Coastal Bend community business leaders and owners will also be in attendance.
WHEN:
June 13, 2019 from 5:30 - 8:30 p.m.
WHERE:
RMB Fairgrounds
1213 Terry Shamsle Blvd
Robstown, TX
MEDIA:
Members of the press interested in speaking with Nina Vaca before or after the event should contact Vlad Drazdovich at (954) 696-5965 or vlad@redbanyan.com.
About Pinnacle Group
Pinnacle Group is a leading provider of workforce solutions headquartered in Dallas, Texas. Founded in 1996, Pinnacle Group's core services include talent acquisition and management, managed services (MSP), and payrolling. With an unwavering commitment to client service and a specialty in analytics and emerging technologies, Pinnacle Group provides transformational outcomes to primarily Fortune 100 clients. Its Progata Talent Platform utilizes machine learning (ML) and proprietary algorithms to help match talent with opportunity and maximize utilization rates. Pinnacle Group is consistently named one of the fastest-growing companies in the country and was named fastest-growing women-owned company in the country by the Women Presidents' Organization in both 2015 and 2018. For more information, visit pinnacle1.com.
About Nina Vaca
Nina Vaca is Pinnacle Group's Chairman and CEO. She is one of the few Latinas in the nation serving as a director on the boards of publicly traded corporations. In addition to her business leadership, Vaca is a civic leader and philanthropist, working relentlessly to expand opportunities for minorities and women in business and for women and girls in STEM fields in the U.S. and around the world. For information and resources, visit NinaVaca.com.