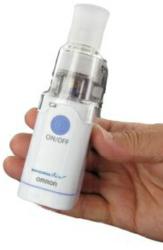 Kids don't have to let asthma hold them back
Fulton, MD (PRWEB) March 26, 2013
On Sunday, March 10th the American Lung Association hosted the 18th annual Asthma Olympics, a fun athletic competition for children with asthma. The Asthma Olympics are designed not only to be fun, but also as a tool for educating parents and children on the best ways to manage asthma.
According to JustNebulizers.com's pharmacist Bryan Mercer, "Asthma's a manageable disease as long as you know what you're doing. That's why events like the Asthma Olympics are so important. Families go because they're fun, but they end up getting useful, sometimes even life-saving information. Plus, it emphasizes the fact that kids don't have to let asthma hold them back. With proper precautions, they can still participate in sports and lead active healthy lives."
Information booths at the Asthma Olympics taught families about avoiding common asthma triggers such as smoke, pollens, mold, and pet hair as well as the importance of and how to take their asthma medications.
"Inhalers are a popular way to take asthma medication, but children often have trouble coordinating compressing the inhaler and breathing in, which leads to them not getting the full dose," said Mercer. "Nebulizers, on the other hand, create a fine mist for children to breath. The process takes between five and ten minutes, depending on the nebulizer, and ensures your child takes in all their medication. Many adult asthma sufferers also prefer to use nebulizers."
As the Asthma Olympics prove, children can be whatever they want even with asthma. Though the disease may complicate things it shouldn't stop kids from playing and competing in sports.
About JustNebulizers.com
JustNebulizers.com provides respiratory products throughout the United States for people of all ages seeking the very best breathing treatments. JustNebulizers.com understands the importance of choosing the right nebulizer equipment. That is why they provide the largest selection of the best nebulizer systems, parts, accessories, and respiratory care products as well as comprehensive and informative details about all of their products. With a wide assortment of respiratory products at the very best prices, their products fit the needs of both young and old persons who need some breathing assistance.