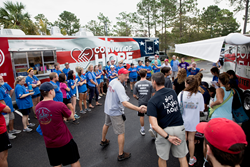 SPRINGFIELD, Mo. (PRWEB) September 19, 2018
Justin Thomas to Raise Money for Convoy of Hope during PGA Tour Championship
For the third year in a row, professional golfer and 2017 PGA TOUR player of the year, Justin Thomas will partner with Convoy of Hope to raise money for hurricane relief efforts. During the PGA Tour Championship, Justin has pledged to donate $1,000 for every birdie and $5,000 for every eagle he makes to Convoy of Hope's Hurricane Florence disaster response.
Justin, his sponsors and fans generated more than $90,000 in donations over the past two year to help Convoy's hurricane relief efforts. Justin is currently ranked 4th on the PGA's Official World Golf Ranking and has had seven PGA Tour wins.
"We are thrilled Justin is partnering with Convoy again this year. His support makes a difference in the work we are doing to help the individuals and communities affected by Hurricane Florence" said Rick Waggoner, Convoy's vice president of development.
Because of Convoy's quick response to Hurricane Florence, they were able to immediately begin serving residents after the storm made landfall. Distribution items include food, water, baby products, brooms, hygiene kits, flood buckets, tarps and trash cans. At this time, Convoy has distributed more than 274,000 pounds of product and has served more than 12,500 individuals in the Carolinas.
About Convoy of Hope
Convoy of Hope is a faith-based organization with a driving passion to feed the world. With a long history as an early responder in times of natural disasters, Convoy of Hope has been a Four Star Charity as recognized by Charity Navigator for 15 consecutive years. Convoy of Hope has served more than 100 million people since it was founded in 1994. For more information, please visit convoyofhope.org.