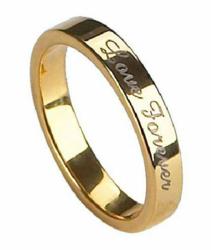 Five of JustMensRings.com's most classic and affordable styles of men's rings have been selected to make their daytime television debut on the legendary soap opera Days of Our Lives.
Jensen Beach, FL (PRWEB) January 23, 2013
Online men's jewelry store JustMensRings.com (JMR) will soon make its television debut on the beloved long-running soap opera Days of Our Lives. Agents from the daytime serial have purchased a number of men's rings from JMR to be worn by one or more male cast members. Affordable yet luxurious in appearance, these rings will no doubt fit right in with the glamorous cast.
While there is no word yet on which characters will sport the bands, longtime watchers of the show might be able to hazard a guess or two based on the five rings that were selected. Amongst the choices are three gold plated bands made from tough tungsten carbide, a contemporary material known for its superior scratch resistance. One style, a plain domed band with a polished finish, has the look of a traditional wedding ring. Another offers a satin finish center framed by eye-catching polished step down edges, while a third has the romantic phrase "Love Forever" etched in a cursive font.
Finishing up the show's selection is a pair of two tone styles, both made from rugged and dependable stainless steel. Three rounded ridges define the first ring, with features a gold tone center handsomely offset by the natural silver hue of stainless steel. The second stainless steel style is somewhat more ornate, with a carved gold tone center, milgrain lines and polished edges. Given their hypoallergenic material and versatile two tone designs, these bands could be worn by virtually any male cast member.
While decidedly upscale in appearance, all of the JMR bands purchased by Days of Our Lives are priced under $60. This should hardly come as a surprise to regular shoppers at JustMensRings.com, as JMR has established itself as one of the most affordable online retailers of men's rings, wedding bands and jewelry for men. In addition to budget-friendly rings made from contemporary materials like tungsten, stainless steel, titanium, cobalt chrome and ceramic, JMR also carries a considerable number of designer men's rings and wedding bands in precious materials like gold, platinum and palladium.
"Everyone at JMR is looking forward to seeing our rings on Days of Our Lives," says JustMensRings.com president and owner Roy Devine. "Finding out what styles will be worn by which characters will be an exciting plot twist for us."
One of the longest running television shows in the history of the world, Days of Our Lives recently celebrated the airing of its 12,000th episode. The classic tungsten and stainless steel styles selected for the show can currently be viewed and purchased online at JustMensRings.com while supplies last. JMR offers everyday low prices, free shipping on orders over $99 and a 30 day money back guarantee on all purchases. In addition to men's wedding bands and designer rings, JMR carries a comprehensive selection of men's jewelry items, including pendants, necklaces and bracelets.
About JustMensRings.com
At internet-only retailer JustMensRings, customers have come to expect the best possible prices on an extraordinary selection of men's wedding bands, fashion rings and jewelry for men, as well as the highest standards of service, selection and quality. The proof is in the numbers: JustMensRings.com now offers the largest selection of men's fashion rings online, and is the only store in the United States that offers men's large size rings up to size 20. JustMensRings leads the competition with an unparalleled assortment of unique and alternative men's wedding rings in a range of traditional and contemporary materials including gold, platinum, palladium, titanium, Tungsten, silver, stainless steel, cobalt chrome and Seranite (or ceramic). Despite the recent rise in gold prices, JustMensRings continues to keep item pricing low and affordable, and shoppers would be hard-pressed to find better deals elsewhere. JustMensRings is dedicated to providing its customers with a simple and secure online shopping experience, and offers a 30 day guarantee and free shipping on all orders over $99.
For more information on JustMensRings, please visit http://www.justmensrings.com.