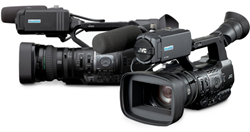 Mobile News Gathering is Now Faster and Better than Ever—JVC ProHD Mobile News Cameras, GY-HM600 and GY-HM650. $500 MIR & Trade-In at B&H Photo Video.
NYC, NY (PRWEB) March 18, 2013
JVC has developed two new professional camcorders, branded as "Mobile News Cameras." The GY-HM600 and the GY-HM650 are nearly identical handheld camcorders, designed for traditional HDTV broadcast productions as well as Internet distribution. Both cameras feature three Full HD 1/3" CMOS sensors and a Fujinon 23x zoom lens, with a 35mm equivalent of 29-667mm and separate controls for zoom, focus and iris. However, the GY-HM650 presents a clear advantage, with Wi-Fi connectivity and the ability to upload footage directly to a remote server as an FTP client.
In conjunction with the ProHD Mobile News Cameras, JVC is now offering a $500 MIR & Trade-In and plus a free JVC SSL-JVC50 7.4V Lithium-ion battery (value $160)
JVC's FALCONBRID image processing engine enables a range of recording formats and modes, including MPEG-2 Long GOP at up to 35 Mbps and AVCHD. Plus, recording in the QuickTime MOV wrapper is a nice option for generating footage that is ready to edit in Final Cut Pro, Premiere Pro and Media Composer. In addition, the GY-HM650 has an "Ultra High Quality" mode that records in the H.264 format at 35 Mbps.
The JVC GY-HM650 also features dual codec processing, which can simultaneously record a Full HD file to one memory card and a Web-friendly proxy file to the second card. Moreover, the GY-HM650 can also transfer the smaller file—potentially faster than real time—to a website or file-sharing service. The GY-HM650 supports MXF files for embed metadata and interoperability with a wide range of broadcast workflows.
JVC rates both cameras' standard illumination for F11 at 2000 lux. Frame rates include 60i, 50i, 30p, 25p or 24p when recording in 1920 x 1080, and recording in 1280 x 720 enables 60p. Other features include a 920K LCD monitor, a 1.22MP EVF, Dual XLR audio inputs, a built-in microphone and an auxiliary input for an optional wireless microphone receiver. Of course, the specs that really stand out are the GY-HM650's built-in FTP capabilities and both cameras' Fujinon 23x zoom lens, which is among the largest optical zoom ratios in its class.
Read and learn more about the JVC ProHD Mobile News Cameras at BH InDepth.
About B&H Photo Video
As the world's largest source of photography, video and audio equipment, B&H Photo-Video is known worldwide for their attentive, knowledgeable sales staff, and excellent customer service, including fast and reliable shipping. Visitors to the website can access a variety of enlightening articles and educational videos. B&H has been satisfying customers worldwide for nearly 40 years.