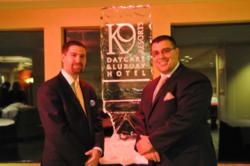 "We've already broken ground (on our franchise location) in Middletown, New Jersey and in Fairfield, New Jersey," said Steven Parker, Co-founder of K-9 Resorts.
FANWOOD, N.J. (PRWEB) March 04, 2013
After a whirlwind year in 2012, K-9 Resorts Daycare & Luxury Hotel (K-9 Resorts) signed eight franchises on the east coast. The one-of-a-kind daycare and overnight boarding facility for dogs expects to have two of its first franchise locations open by May 2013.
"We've already broken ground (on our franchise location) in Middletown, New Jersey and in Fairfield, New Jersey," said Steven Parker, Co-founder of K-9 Resorts. Steven, along with co-founder and brother Jason, presented Mayor Gerard P. Scharfenberger of Middletown with a $500 donation during the groundbreaking ceremony for the shores' first K-9 Resort. The donation will be used towards the Hurricane Sandy relief fund, for the aid in repairing the millions of dollars in damage the area sustained in October during Hurricane Sandy.
With New Jersey set to boast three K-9 Resorts locations by May 2013, and a total of six by years end, the Parker brothers have also signed a total of two deals for locations in neighboring states, including Pennsylvania and Virginia, where the early stages of site searching and developing are also underway, and the specific terms of the deal are in final negotiations.
"2012 was an incredible year for us in terms of wrapping up and putting multiple deals in the books, setting us on a path for rapid growth and expansion this year and beyond," said Jason Parker, Co-founder and President of K-9 Resorts. "With our first franchised locations opening this spring, even more people will be exposed to our signature services, and we expect our reputation to proceed us as we cross state borders."
K-9 Resorts is offering territories along the east coast, from Boston to Northern Virginia. Jason and Steven's recent appearances on CNN Money and FOX News brought a wave of perspective franchisees across the U.S., a clear indicator that not only are the services K-9 Resorts provides popular with consumers, but with potential business owners as well. The Parker brothers set their sights on selling 12 additional franchises this year alone and are on track to accomplish this goal.
"It's the perfect opportunity for both animal lovers and savvy business owners to take advantage of a pet care industry that continues to grow despite poor economic times," said Steven Parker. "People love their pets, and the pet care industry is showing no signs of slowing down."
Founded in 2005 as the second pet business run by the brothers, K-9 Resorts is the result of over 14 years of pet care experience, and countless hours of dedication. The Parker Brothers are now National Experts & Speakers on Petcare! K-9 Resorts is the industry's gold standard service for pet owners eager to provide their dog with the finest boarding available, the facilities are equipped with top-of-the-line dog pampering products, including spacious accommodations that are 9' x 9' luxury suites and comfortable 5'x7' size rooms as well. With a goal of becoming the number one pet care company in the nation, K-9 Resorts has undoubtedly set the bar high for their competitors.
ABOUT K-9 RESORTS
K-9 RESORTS DAYCARE & LUXURY HOTEL was founded in 2005 by brothers Steve and Jason Parker in Fanwood, N.J. When in their early teens, their parents denied them a dog of their own, so the entrepreneurial pair opened a professional pet-sitting business to prove they were not only willing, but ready to care for a dog. That business not only became a highly profitable enterprise that they sold for a six-figure sum in 2006, that revenue became the expansion fuel for their thriving K-9 Resorts business. The business, which is the only facility in New Jersey to have been rated Number 1 by multiple major publications, is now positioned for franchise growth throughout the Northeast U.S. K-9 Resorts was ranked Number 1 in its category by the Courier News and by New Jersey Monthly. To learn more about K-9 Resorts Daycare & Luxury Hotel and potential franchise opportunities, visit the company's website http://www.k9resorts.com.