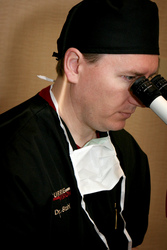 Dr. Stahl has participated in many FDA trials for LASIK and PRK but what sets Jason apart from most refractive surgeons in the United States is his participation in FDA trials for phakic lens implants
Kansas City, KS (PRWEB) August 4, 2008
Trusted LASIK Surgeons (Trusted LASIK Surgeons) announced today that Kansas City LASIK surgeon Jason Stahl, M.D., of Durrie Vision has qualified and is listed in its LASIK Surgeons Directory. By listing with Trusted LASIK Surgeons, Dr. Stahl joins an elite group of vision correction surgeons. Dr. Stahl's treats patients the Kansas City area in Missouri and Kansas, including Overland Park, Independence, Leawood, Shawnee, Grandview and Lenexa.
The Trusted LASIK Surgeons directory service screens all refractive surgeons who apply to ensure that only those LASIK surgeons who are among the best in the United States will be listed. All surgeons are screened based on experience, premier patient care, and professional credentials. Dr. Stahl's exceptional accomplishments put him among the top 1% of LASIK and refractive surgeons in the United States.
What distinguishes Dr. Stahl from most other LASIK Surgeons are his experience as a principal investigator for 15 FDA studies for laser manufacturers and pharmaceutical companies, his faculty appointment as an Assistant Clinical Professor of Ophthalmology at the University Kansas Medical Center, and is an assistant editor of the Journal of Refractive Surgery. Dr. Stahl has performed over 5,000 LASIK and laser vision procedures and has over 8 years of refractive surgery experience.
In addition, Dr. Stahl has written 5 textbook chapters, published over 10 articles for major peer-reviewed eye and medical journals, given over 60 lectures at major eye meetings worldwide and taught over 25 courses in the field of refractive surgery. Also Dr. Stahl serves as a reviewer for several eye care journals, including Ophthalmology, Journal of Refractive Surgery, Journal of Cataract and Refractive Surgery, American Journal of Ophthalmology, Cornea, and European Journal of Ophthalmology. These contributions demonstrate his proven expertise in treating patients with a variety of vision problems.
A certified ophthalmologist by the American Board of Ophthalmology, Dr. Stahl is a member of the American Academy of Ophthalmology (Achievement Award), the International Society of Refractive Surgery, and the American Society of Cataract and Refractive Surgery. In addition, Dr. Stahl is active in the local medical organizations like the Kansas City Society of Ophthalmology and Otolaryngology and the Metropolitan Medical Society of Greater Kansas City.
Dr. Stahl's practice provides premier patient care, including: (a) use of IntraLase system for "All-Laser" or "Bladeless" LASIK, and (b) use of Wavefront Based ("Custom") LASIK and PRK. Dr. Stahl's practice offers not just laser surgery procedures like LASIK and PRK, but other refractive surgery procedures like presbyopia-correcting lens implants, conductive keratoplasty, phakic implants, limbal relaxing incisions, and cataract lens implants. By offering a full range of treatment problems, Dr. Stahl can treat patients who are nearsighted (myopic), farsighted (hyperopic), astigmatic (blurred vision), presbyopic (reading problems) and any combination of the above. Patients who have had significant problems with LASIK or another vision correction procedures performed by another surgeon have come to Dr. Stahl to manage and treat their complications. In addition, other eye surgeons have chosen Dr. Stahl to perform their LASIK or other vision correction procedure.
"Dr. Stahl has participated in many FDA trials for LASIK and PRK but what sets Jason apart from most refractive surgeons in the United States is his participation in FDA trials for phakic lens implants," commented James J. Salz, M.D., Chief Executive Officer of Trusted LASIK Surgeons. "Jason has participated in Phakic lens implant studies for both Alcon and AMO. Consequently, we are very pleased to have a pioneering refractive surgeon of Jason's caliber joining our LASIK directory at Trusted Lasik Surgeons."
Visit Kansas City LASIK Surgeon Jason Stahl profile on Trusted LASIK Surgeons
To contact Dr. Stahl's office directly, please click on the Durrie Vision contact form and be sure to request Dr. Stahl in the comments section
For more on why consumers should consider surgeons listed in the Trusted LASIK Surgeons directory for their vision correction needs, please visit:
Why choose a Surgeons from the Trusted LASIK Surgeon's Directory
The screening process and standards used by Trusted LASIK Surgeons are located at
How Are LASIK Surgeons Qualified at Trusted LASIK Surgeons?
To find a highly accomplished LASIK and refractive specialist in your local area who has been qualified and listed in the Trusted LASIK Surgeons directory, please visit the Trusted LASIK Surgeons Directory
About Trusted LASIK Surgeons, Inc.
Trusted LASIK Surgeons, Inc. (Trusted LASIK Surgeons) is an informational website on LASIK and other refractive surgery procedures. Our primary mission is to assist the public in finding the best vision correction care through both the information on our website and through our distinct LASIK and refractive surgery directory which lists those surgeons who are among the best and most qualified LASIK and vision correction surgeons in the United States. Our Trusted LASIK Surgeons directory uses a unique screening process where each prospective LASIK surgeon must meet a minimum number of required qualifications set by Trusted LASIK Surgeons. These standards we use are based on experience (not just in LASIK but in complete refractive care), research (including FDA approval studies for manufacturers and academic appointments at major universities), publications and lectures (to their peers, not to the public via infomercials) and patient care standards (treating other eye professionals and managing complications from patients first operated on by another doctor). All refractive surgeons listed at Trusted LASIK Surgeons have qualified, been accepted, and have subscribed to our services. For more information on why we believe consumers interested in LASIK should consider a surgeon listed in the Trusted LASIK Surgeon's directory, please visit our website at http://www.TrustedLASIKSurgeons.com.
SOURCE: Trusted LASIK Surgeons
Trusted LASIK Surgeons
(800) 483-8028
news @ TrustedLASIKSurgeons.com
About Durrie Vision
Durrie Vision (http://www.durrievision.com) is regarded as one of the leading eye care centers in the United States. The surgeons of Durrie Vision have helped thousands of people enjoy better vision. From LASIK, to cataract surgery to cosmetic surgery to the treatment of retinal diseases, Durrie Vision invests invests in the most high-tech equipment and the best treatments available. Durrie Vision had the first Excimer laser in Kansas City. Surgeons like Dr. Jason Stahl at Durrie Vision are among the most experienced and well-trained in the entire country and have taught courses to other doctors at major national and international meetings of ophthalmologists. Durrie Vision is recognized as a center of excellence by major pharmaceutical and medical device manufacturers and its surgeons are continuously sought out by manufacturers to conduct clinical trials on new medications and technologies. For more information about Jason Stahl, M.D., please visit Kansas City LASIK Surgeons at Durrie Vision
If you are a member of the media, please contact Carla Revare at crevare @ durrivision.com.
Durrie Vision
5520 College Boulevard, Suite 201
Overland Park, Kansas 66211
For patients seeking appointments:
(913) 491-3330
(866) 954-2525 toll free
###