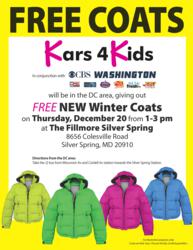 With the arrival of cold temperatures, the lack of proper winter wear is one of the most serious challenges facing parents during these difficult economic times
Washington, DC (PRWEB) December 19, 2012
CBS RADIO Washington, D.C. (cbsradio.com) and Kars 4 Kids (kars4kids.org)are giving out free winter coats for kids on Thursday, December 20th from 1pm to 3pm at The Fillmore Silver Spring (fillmoresilverspring.com) located at 8656 Colesville Road in Silver Spring, MD.
"With the arrival of cold temperatures, the lack of proper winter wear is one of the most serious challenges facing parents during these difficult economic times," says Steve Swenson, Senior Vice President and Market Manager for CBS Radio Washington, DC. Swenson says that "CBS Radio Washington, D.C. is proud to partner with Kars 4 Kids to work together in helping our community."
Past events organized by Kars 4 Kids have only reinforced the need for community outreach."We have seen the need, and experienced the gratitude recipients feel when they can properly cloth their children," stated Kars 4 Kids spokesman Steven Weldler. "That has motivated us to continue expanding these events every year. This year we intend to distribute more than any other year as the need increases."
The Fillmore Silver Spring is proud to be our venue sponsor for this event. Anyone can attend the event. It is open to the public, with one coat being distributed per family. There is no need to bring children.
CBS RADIO Washington, D.C. stations including 106.7 The Fan WJFK-FM, 95.5 WPGC-FM, 94.7 Fresh-FM, El Zol 107.9 FM, All News 99.1 WNEW-FM, and GOV.BIZ Radio 1580 AM will be onsite distributing the coats while supplies last.
About CBS RADIO
CBS RADIO, a division of CBS Corporation, is one of the largest major-market radio operators in the United States, with stations covering news, sports, talk, rock, country, Top 40, classic hits, and urban formats, among others. Reaching nearly 70 million unique over-the-air listeners on a weekly basis, the division owns and operates 127 radio stations across 28 markets, including all of the Top 10.
###