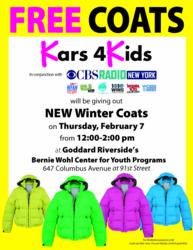 We have seen the need, and experienced the gratitude recipients feel when they can properly clothe their children
New York, NY (PRWEB) February 06, 2013
CBS RADIO New York and Kars 4 Kids (kars4kids.org) will be giving away 1,000 children's winter coats on Thursday, February 7 from 12:00Noon-2:00PM at the Bernie Wohl Center for youth programs at The Goddard School, located at 647 Columbus Avenue in Manhattan. The event is open to the public and children do not need to be on site to receive a jacket. One coat will be provided to each family pending availability.
Reinforcing the need for community outreach, so far this winter Kars 4 Kids has donated over 3000 children's winter coats in Staten Island, Washington, D.C. and East Orange, N.J."We have seen the need, and experienced the gratitude recipients feel when they can properly clothe their children," explained Kars 4 Kids spokesman Steven Weldler. "That has motivated us to continue expanding these events every year. This year we intend to distribute more than any other year as the need increases."
"We applaud the work that Kars 4 Kids is doing in the community and are pleased to work with them on this important initiative that will positively impact the lives of so many children," stated Don Bouloukos, Senior Vice President/Market Manger, CBS RADIO New York.
The Goddard School welcomes the opportunity to serve as host and sponsor of this event. For more information on the program and other Kars 4 Kids events, follow Kars 4 Kids on Twitter.
WHO: Kars 4 Kids, a national car donation charity, in partnership with CBS RADIO New York.
WHAT: Donation of 1,000 children's coats to local area children.
WHERE: Bernie Wohl Center for youth programs at The Goddard School(647 Columbus Avenue at 91st Street in Manhattan).
WHEN: Thursday, Feb. 7(12:00Noon-2:00PM).
WHY: As temperatures continue to drop, CBS RADIO New York and Kars4Kids are continuing to clothe the community.
VISUALS: Kars 4 Kids and representatives from CBS RADIO New York stations 1010 WINS, WWFS/FRESH 102.7, WNOW/92.3 NOW, WCBS-FM 101.1, WFAN 66/101.9, WCBS 880 will be distributing coats to children at the Bernie Wohl Center at The Goddard School. 1,000 new winter coats distributed to families with young children.
CONTACT: Rena Resnick – 5W Public Relations – rresnick(at)5wpr(dot)com – 212-584-4323
Frank Iemmiti – CBS RADIO – frank(dot)iemmiti(at)cbsradio(dot)com – 212-830-3759