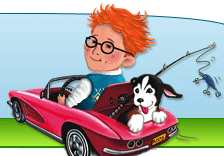 After years of chasing the corporate dream, I realized that it is about people and not profits
Lakewood, NJ (PRWEB) March 07, 2013
The Kars4Kids car donation charity, a nationally-recognized nonprofit organization whose sole mission is to help disadvantaged and disaffected children, recently announced the appointment of Avi Gordon as its new Chief Operating Officer.
A native of South Africa who is a Chartered Accountant with multiple degrees in finance, economics and law , Gordon has spent most of his professional life with several large and prestigious national and multi-national companies. Before leaving La Jolla California to relocate to New York, Gordon was the Chief Operating Officer of Shamir Insight Inc., the American subsidiary of a NASDAQ-quoted optical company. Prior to Shamir Insight, Gordon was the Senior Vice President of Operations of The Argen Corporation, the largest dental alloy manufacturing company in the world.
Gordon will oversee 120 employees in both Lakewood New Jersey as well as in Israel. Focusing his efforts on the daily operations of Kars4Kids' 49 programs that work to give Jewish children and their families opportunities to become active and productive members of their community. To accomplish this, Kars4Kids developed programs, focusing on education, extracurricular activities, and family enrichment.
"The decision to join the Kars4Kids mission was simply a matter of giving back to one of the most precious things we all have in our lives, and that is our kids," said Gordon. "It has been said that the obscure comes to us eventually whereas the more obvious takes a little bit longer. After years of chasing the corporate dream, I realized that it is about people and not profits; about the dreams of kids and not the dividends to shareholders. Working for an organization that dreams of simply helping kids be happy, is far beyond the self and the pursuit of the mighty corporate dollar and to join them was the best decision that I have ever made."
For more information to participate of volunteer at a Kars4Kids car donation program, please visit: http://www.kars4kids.org/
For more information, visit this page about Kars for kids .