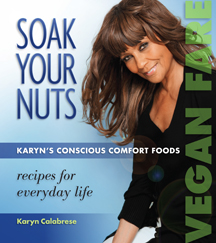 "To distill good nutrition and high sensuality into your cuisine is the true definition of culinary artistry." Charlie Trotter
Summertown, TN (PRWEB) March 07, 2013
Karyn Calabrese is a holistic healer, teacher, and entrepreneur based in Chicago. For more than 25 years, she has been an outspoken proponent on the benefits of living foods and plant-based diets. Her newest release, Soak Your Nuts Karyn's Conscious Comfort Foods, features popular dishes from her vegan and raw restaurants as well as a few of Karyn's home favorites.
In 1995, she opened her first — and Chicago's first— raw food diner, Karyn's Fresh Corner. Recently listed in a USA Today article "10 Great Places Where Vegetarians Don't Sacrifice Flavor", today it's a multifaceted business composing of a sit-down restaurant, juice bar, retail store and holistic therapy center. Karyn realized that it is easier for people to embrace raw food if a transition has already been made to eating a vegan diet. In 2002, she opened a vegan restaurant, Karyn's Cooked, and in 2009 opened a second, more upscale restaurant, Karyn's on Green.
Subtitled Recipes for Everyday Life, this cookbook has a unique back-to-back format. One side is vegan fare; flip the book and the back is the front cover for the raw recipe section. Names of recipes often provide a point of reference to dishes that non-vegans are familiar with such as Meatloaf, Potatoes Au Gratin, Mac and Cheese and Slab O' Tofu Ribs. Anyone wishing to experience raw food can easily relate to Pimento Cheese, Tuna Salad, or Spinach Stuffed Ravioli.
Charlie Trotter—who lives within 50 feet from one of her restaurants— states in his foreword, "To call Karyn Calabrese's food healthy is beside the point. It is, but more importantly, everything she touches in the kitchen is magically delicious... To distill good nutrition and high sensuality into your cuisine is the true definition of culinary artistry."
In Karyn's Conscious Comfort Foods, Karyn's warm delivery, nutritional knowledge, and love of cooking make it easy for readers to resonate with her message—plant-based cuisine will benefit their journey to better health. The fact that the food is so delicious is the frosting on the cake.
Karyn has a gift for creating an environment of food, health, guidance and care that enables people to take charge of their health. Her first book, Soak Your Nuts Cleansing with Karyn, describes the steps involved with Nature's Healing System, a 28 day detox program offered at Karyn's Inner Beauty Center. Both books are published by Book Publishing Company whose main genre is plant-based cuisine and nutrition and healthy living.
The phrase "Soak Your Nuts" on her book titles is a tongue-in-cheek reference that refers to both the prep step of soaking nuts overnight to release their nutrients and the necessity to maintain a sense of humor on any journey towards better health.