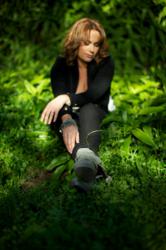 We love Kate, and her keen fashion sense. By sending her some Starlettos we are doing our bit to keep her, and her baby bump, a little safer
(PRWEB) March 19, 2013
After seeing news reports of Kate Middleton, The Duchess of Cambridge, at the Irish Guard's St Patrick's Day Parade, Starlettos, the high heel protector company to the stars of Hollywood, is sending Kate some of its popular heel guards.
While photographers and news crews were at the Parade hoping to catch a snap of the 'baby bump', what made front page news was Kate's high heel getting caught in a grate.
"Next time she's in heels at an outdoor ceremony the Duchess would be safer swapping her Irish Guards for Heel Guards," said Starlettos creator, Ilde Naismith-Beeley. "So we are sending her some of ours to help prevent mishaps like this from recurring."
Safety In Heels
Photos and videos of The Duchess of Cambridge over the years that she has been in the public eye show that she is a lover of high heels, but wearing them does come with some risk to elegance.
High heels and stilettos are notorious for sinking into grass or getting caught in evening gowns, and have been the cause of trips and falls of movie stars, brides and politicians.
"We love Kate, and her keen fashion sense. By sending her some Starlettos we are doing our bit to keep her, and her baby bump, a little safer" said Ms Naismith-Beeley.
Starlettos heel protectors are inconspicuous flower-shaped buds that slide onto a high heel. By widening the surface area of the heel as it touches the ground, they prevent high heels from sinking into grass, or, in the case of Kate Middleton, from getting caught in narrow grates.
Starlettos To The Rescue - Again
This is not the first time Starlettos have been sent to the rescue of a high heel wearer. Last year the Australian Prime Minister, Julia Gillard, made headlines on a visit to India when her shoe's heel sank into grass. Her fall to the ground became a YouTube sensation and the Starlettos team was quick to get some of their heel guards to her.
"We believe that any woman in the public eye, particularly when attending outdoor events, should have Starlettos as part of their wardrobe accessories" said Ms Naismith-Beeley. "The Irish Guards came to the rescue , but with some Starlettos heel guards no rescue would have been necessary!"
Starlettos are now with the UK's Royal Mail - on the way to their Royal recipient , the Duchess of Cambridge.
More information about Starlettos high heel guards are available at Starlettos.com
About Starlettos
Australian-designed, globally-loved.
Starlettos are high heel protectors with a focus on design. They are easily slipped on and off stilettos and high heels to prevent them from sinking into grass at high-fashion outdoor events. With the added benefit of a non-slip base they provide the wearer with red-carpet confidence at events where high heels star: weddings, proms and public ceremonies.
Starlettos are the brainchild of Australian Ilde Naismith-Beeley, and were the result of her own desire to wear beautiful shoes at her outdoor, on grass, wedding. In the process of creating Starlettos, Ilde solved three other stiletto-wearing dilemmas – getting stuck in grooves, slipping on dance floors, and potential damage to the wedding dress.
Discover more about Starlettos, to find a retailer or to order online, visit Starlettos.com