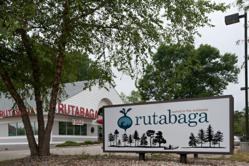 "It's great to see the staff collapsing cardboard boxes for recycling. We had a great show."
Madison Wisconsin (PRWEB) March 14, 2013
Friday, March 8th, at 4pm, Canoecopia's doors were opened to a lobby packed with people waiting to file into the world's largest paddlesports consumer show. By 5pm Sunday, more than 20,000 people had walked through the doors, and walked out with their pick of hundreds of canoes, kayaks, paddles, and a few semi trailers of accessories.
"It was definitely easier coming back than loading in," said Darren Bush, Owner and Chief Paddling Evangelist at Rutabaga Paddlesports, the store that presents Canoecopia every March. "It's great to see the staff collapsing cardboard boxes for recycling. We had a great show."
Canoecopia also saw record attendance at their speakers and presentations.
"We filled up a lot of speaker rooms," said Nancy Saulsbury, who coordinates the speaker schedule for Canoecopia. "We have eight speaker rooms that hold up to 550 people, plus an Atrium and pool at the hotel next door. We were standing room only for Saturday, and even Friday and Sunday speakers were quite full."
"The popularity of Canoecopia is not just because of the sale prices," said Bush. "Our speakers and instructors are world-class."
Bush also attributes the growth at Canoecopia largely to the educational component. "You can purchase gear, but without the knowledge of how to use it, it might gather a lot of dust, and gear is meant to be used," he said.
The paddlesports industry watches Canoecopia closely as it is the first major sales event of the season. They won't be disappointed. Sales figures revealed a good trend for paddlesports this year.
"Clearly the trend toward simpler vacations that are closer to home is continuing and expanding," Bush said. "That bodes well not just for paddlesports, but for the whole outdoor recreation area."
"Besides, canoes and kayaks are a lot more reliable than cruise ships," laughs Bush.
Recent research shows that outdoor recreation has become a driving force in the US economy.
"60% of Wisconsin residents participate in outdoor activities, resulting in spending of $1,200,000,000 (12 billion dollars) and 150,000 jobs a year in Wisconsin," said Bush. Similar numbers exist in other Midwestern states.
"Canoecopia is a microcosm of our society and economy. We are doing more outside, and that's great."
About Rutabaga Paddlesports:
Rutabaga Paddlesports has received Paddlesports Retailer of the Year from Canoe and Kayak Magazine a record eight times and was voted one of the best 50 Places to Work by Outside Magazine in 2011. Rutabaga Paddlesports is a nationally-recognized kayak, canoe and stand up paddle (SUP) retailer. Family-owned and operated since 1976. Rutabaga owns cartop.com. The company's paddling school, Rutabaga Outdoor Programs, teaches paddling skills to over one thousand paddlers a year.
###