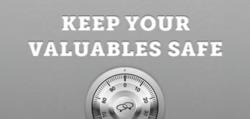 These simple tips can help prevent the most common types of theft and robberies in your home.
Austin, TX (PRWEB) March 26, 2013
Anyone who installs a home alarm system may automatically assume they are safe from the threat of a home invasion, but in fact, even with a home alarm system in place, there are a number of vulnerabilities that can leave a resident open to potential safety threats. Many of these alarm system mistakes go unnoticed until it's too late, but there are a few tips to remedy these common problems.
AlarmSystemReport.com, a site providing home alarm system reviews and rankings of the best home alarm systems, put together a list of common alarm system vulnerabilities, and a few tips to address these issues.
1. Whenever possible, choose a monitored home alarm system. Many people install DIY alarm systems and opt not to pay for a monitoring service, in hopes that the alarm will scare off intruders, or that neighbors or passerby's will alert the police, but this is an unreliable form of home security. If the police aren't alerted of a break-in, a home alarm system fails to serve most of its purpose. There is no guarantee that the sirens alone will make an intruder leave, or that a neighbor will alert the police.
2. False alarms are one of the most common problems reported with home alarm systems. To prevent false alarms, ensure that every member of a household knows how to properly use an alarm system. After a number of false alarms, an alarm company may fine a resident, or stop responding altogether. Also, false alarms can mean that neighbors stop responding to the system altogether, and this can be especially problematic for unmonitored systems.
3. Having an alarm system with dead batteries makes the system completely useless. Change batteries regularly, and perform tests to ensure the system is always in proper working order. Many of the newest types of alarm systems, such as wireless systems, rely entirely on batteries, so it's important to remain on top of maintenance.
4. Alarm systems should not be placed close to a window or door. If an alarm system's keypad is located near a window or door, intruders can potentially break in and easily manipulate or disconnect the system, rendering it useless. Alarm systems should be located in hard-to-reach locations, where they can't easily be disarmed or disconnected.
5. If an alarm system is operated by power or telephone lines that are visible and easily accessible, an intruder can cut the lines and disconnect the system, before trying to break in. To alleviate this problem, many homeowners opt for wireless systems, which can't as easily be disconnected.
About the Company
AlarmSystemReport.com is a trusted third-party resource for everything related to home alarm systems. The site provides comprehensive reviews and rankings of the top home alarm system companies in the country, as well as other valuable information related to the industry, including pricing, discounts, coupons and news.