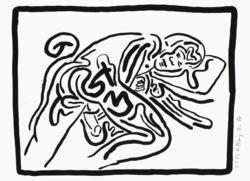 New York, NY (PRWEB) November 29, 2012
The Museum of Sex is pleased to display six prints from Keith Haring's BAD BOYS Series. This explicit homoerotic series from 1986, showcases Keith Haring's unique graffiti pop art style as well as his pride in his sexual orientation, which he expressed throughout his career.
While studying at the School of Visual Arts in the 1980s, Keith Haring (1958-1990) began creating public art installations throughout the New York City subway stations. The response to his work was tremendous and, a few years later, his work was being shown in some of the most prestigious solo and group exhibitions around the world. With the hopes of making his artwork more accessible, Haring both continued to create numerous public works, including his now famous mural, Crack is Wack, still viewable from the FDR Drive on the East side of New York, as well as establishing the Pop Shop in 1986, which sold his artwork at prices affordable to the general public.
Haring was diagnosed with AIDS in 1988 and died at the age of 31 from AIDS-related complications in 1990. His work is celebrated the world over, and continues to be featured in major collections, museums and retrospectives.
This installation was made possible through a generous loan from The Keith Haring Foundation, which was established in 1989 to assist AIDS-related and children's charities, and maintains the largest resource of archives on the artist.
About The Museum of Sex
The Mission of the Museum of Sex is to preserve and present the history, evolution and cultural significance of human sexuality. In its exhibitions, programs and publications, the Museum of Sex is committed to opening discourse and exchange and to bringing to the public the best in current scholarship. The Museum's permanent collection of over 15,000 artifacts is comprised of works of art, photography, clothing and costumes, technological inventions and historical ephemera. Additionally, the museum houses both a research library as well as an extensive multimedia library, which includes 8mm, Super 8mm, 16mm, BETA, VHS and DVDs. From fine art to historical ephemera to film, the Museum of Sex preserves an ever-growing collection of sexually related objects that would otherwise be destroyed and discarded due to their sexual content. In a city that never sleeps, the Museum of Sex is constantly evolving and has no plans to slow down.