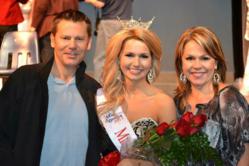 Deloris (R.N.) and Paul McCarthy are strong supporters of Oklahoma's pageant contestants from local to regional and including 2 Miss America's 'We are proud to support our local ladies!'
Tulsa, OK (PRWEB) December 17, 2012
Deloris (R.N.) and Paul McCarthy are strong supporters of Oklahoma's pageant contestants from local to regional and including two Miss America's Shawntel Smith in 1996 to Jennifer Berry in 2006. See the photos of the current Miss Oklahoma Alicia Clifton on her recent visit to Sunsations Tanning. "We are proud to support our local ladies and this is why the crown holder tans free and active participants get discounted at all levels of tanning," says McCarthy.
Today they are throwing their support behind Miss Broken Arrow, Kelsie Berg who is a Freshman at the University of Oklahoma and has been nominated as a top 10 finalist in the Dr. Pepper Tuition Challenge. "We would love to see Kelsie represent Broken Arrow and all of Oklahoma at the BCS, and are fully supportive of our local pageant contestants and winners," stated Paul McCarthy.
Voted 'Best of the Best' by Oklahoma Magazine and called Tulsa's cleanest and friendliest tanning facility by many are just two of the many reasons clients keep coming back again and again. In fact, many tanners love Sunsations so much they take advantage of the annual tanning packages that saves them 37% off the regular tan as you go pricing.
Sunsations offers UV free Airbrush tanning and 3 levels of Tansas tanning beds, including wide-body bronzing beds and standup beds! All their beds are very effective and comfortably placed in beautifully decorated large private rooms.These are the hottest lamps and luxury at discounted prices!
They offer professional Airbrush tanning by appointment; amazing "TAN" UV free.
Sunsations requires no contractsand offers UV tanning and UV free Airbrush tanning by single session, multi-session, monthly unlimited, and multi-month pricing."I.D." discounts include students, teacher and military (ID required)
Sunsations is located at 6532 E 71st St, Suite 103, Tulsa, Oklahoma 74133 on the SE corner of 71st and Sheridan. And open daily except Sunday.