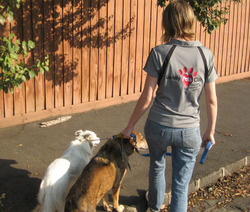 It is great to receive this recognition for the company we have been building over the past 6 years.
Melbourne, VIC (PRWEB) October 14, 2009
Australia's largest and most experienced pet sitting business has been recognised with an award honouring its contribution to Australia's pet services industry. The 2009 Victoria State Winner of the Small Business Champion Awards in the Pet Services category, Lonely Pets Club has led a quiet revolution over the past 6 years as many pet owners turn away from the traditional options of holiday pet care such as kennels and catteries.
These days, thousands of pet owners choose to use a pet sitting and dog walking service instead of boarding kennels and this type of service is now available in most areas of Australia. Pets stay at home when their owners travel and a pet sitter visits each day to care for them. The pets are fed their usual food, drink from their usual water bowl, get taken for dog walks in their local park and receive lots of love and attention from their pet sitter.
"It is great to receive this recognition for the company we have been building over the past 6 years." says Justin Cofield, Founding Director of Lonely Pets Club. "Most of our bookings come from pet owners who have used us before, so we are confident that we are providing a fantastic service. Once they realise how easy it is to leave their pets in the comfort of their own home being cared for by a pet sitter they trust, they don't look back! "
Lonely Pets Club has made over 110,000 visits to members' homes since opening for business in 2003. With a network of animal loving carers and franchisees covering all of Melbourne, Lonely Pets Club is now expanding by offering franchises interstate. They also tend rubbish bins, water house plants and bring in mail whilst caring for pets.
"There are many benefits of using our pet sitting service over dog boarding kennels or catteries", says Justin, "including the happiness and health of the pets and convenience to the pet owners."
With only two months until Christmas, he suggests that pet owners planning a holiday should book a pet sitter now to avoid missing out during this industry's busiest time.
###